As the US, Japan and India refashion their ties, there are now growing calls for another trilateral initiative involving the US, Australia and India.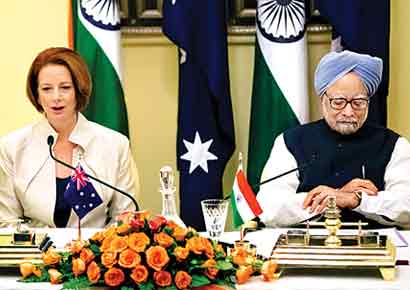 As the rise of China upends the balance of power in the Indo-Pacific, new regional configurations are emerging thick and fast to tackle this challenge. The US, Japan and India have also been holding trilateral summits since last year. Last week the three nations met in New Delhi for the third round of this initiative. The first meeting was held in Washington in December 2011 followed by the next one in Tokyo this April. The evolving strategic environment in the Asia-Pacific was discussed as the three sides shared their views on the US pivot to the region, the growing maritime disputes in East and South China Sea as well as exploring the possibility of developmental cooperation in Myanmar, Afghanistan and Africa.
Though security of sea lanes of communication, coordination of humanitarian assistance and global terrorism will be the focus of this meeting, the rise of China will remain the unspoken subtext that will shape the trajectory of this arrangement.
As America's economic constraints force it to go back to an "offshore balancing" posture, it needs new arrangements in Asia if it wants to prevent China from dominating the regional strategic landscape. The US will increasingly rely on its regional allies and regional arrangements to carry more of the security burden much as it did via its hub-and-spokes alliance system in Europe since the end of the Second World War. China, of course, remains very sensitive to this more pro-active approach in Asia and has suggested that a "Cold War mentality" is not the way forward but the regional states have their own plans.
The US has encouraged a greater role for India in East and Southeast Asia. Exhorting India to lead and look beyond its immediate neighbourhood, the secretary of state, Hillary Clinton, during her visit to India last year had asked India "not just to look east, but to engage east and act east as well". India has responded with a renewed focus on its Look East Policy which has evolved from economic and trade linkages with various regional countries to a gradual strengthening of security ties.
India's ties with Japan, in particular, have been gaining momentum. India's booming economy makes it an attractive trading and business partner for Japan as the latter tries to overcome many years of economic stagnation. Japan is also reassessing its role as a security-provider in the region and beyond, and of all its neighbours India seems most willing to acknowledge Japan's centrality in shaping the evolving Asian security architecture.
Moreover, both India and Japan are well aware of China's not so subtle attempts at preventing their rise. It is most clearly reflected in China's opposition to the expansion of the United Nations Security Council to include India and Japan as permanent members. China's status as a permanent member of the Security Council and as a nuclear weapon state is something that it would be loathe to share with any other state in Asia.
As the US, Japan and India refashion their ties, there are now growing calls for another trilateral initiative involving the US, Australia and India. The traditional neglect of Australia-India bilateral ties is beginning to get rectified with the Labour government's decision to overturn a decades-old ban on uranium sale to India. The Australian prime minister, Julia Gillard's visit to India last month was a signal that finally Australia has recognised the importance of India in the regional geo-strategic matrix. Canberra has reinvigorated its alliance with the US agreeing to station 2,500 marines in a US base in northern Australia and has reached out to Japan for enhanced defence cooperation. Australia and India are ramping up their defence ties with the two sides converging on the importance of freedom of navigation in international waters, an issue that has bedevilled China's ties with key regional states in recent months.
Though any diplomatic move targeted explicitly at China will come unstuck in Canberra and New Delhi, there is now a clear recognition in Australia and India that new institutional mechanisms are needed for a new strategic landscape in Asia-Pacific. Though economic ties between Australia and China are robust with China being Australia's largest trading partner since 20009, the security implications of a rising and an ever more assertive China are becoming palpable with each passing day.
When the idea of a "democratic quad" was mooted a few years back, the fear of antagonising China had led Australia and India to reject it. China will have to come to terms with regional states actively seeking new ways and means to manage China's rapid ascent in global hierarchy.