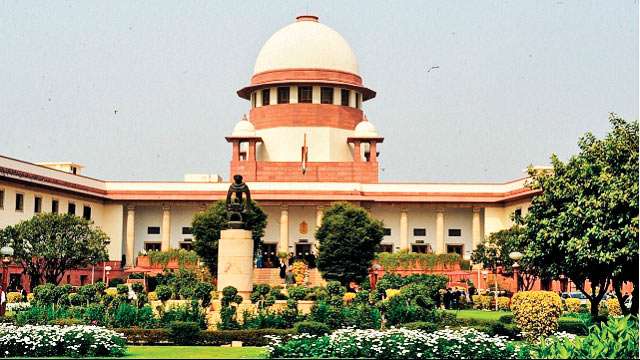 SC's intervention is a welcome step
The Supreme Court's decision that sexual intercourse with a wife below 18 years of age will be tantamount to rape is a step in the right direction, although it is one that casts light on the shameful failure of the Centre and states in controlling the base practice of child marriage.
However, the Supreme Court chose not to wade into the larger issue of marital rape in this judgement, which just goes on to highlight that the Indian woman's fight for her dignity and for dominion over her body has been a long and tortuous one, and, by the looks of it, is not set to end anytime soon.
By delivering this judgement, the Apex court set aside Exception 2 of Section 375 of the Indian Penal Code. The section dealt with rape and effectively excluded marital rape of girls between the ages 15 and 18 from the purview of rape.
With the SC judgement setting aside the exception, a small step has been taken in securing minor girls' right over their own body. However, the issue of marital rape of women over the age of 18 still hangs fire, and it is not the courts but the government that is to be blamed for inaction on this front.
Meanwhile, a plea seeking criminalisation of marital rape is being heard by Delhi High Court, and the Centre has argued against the plea, contesting that doing so would work to "destabilise" the institution of marriage. By making such an argument, the Centre is intentionally looking away instead of fighting with full power the forceful violation of a woman's right over her body. Legalese aside, no marriage can ever be license for a husband to impose himself on his wife against her will and volition.
In December 2015, MoS for Home Affairs Kiren Rijiju had declared that the government is working on putting forward a "comprehensive" legislation that will criminalise marital rape. Activists, lawyers and journalists have been waiting with bated breath to have a glance at the draft legislation, but it is now 2017, and all they have had is tough luck. Once again, the collective hopes of Indian women will be pinned on the courts. This apart, evidence abounds, and not just anecdotal in nature, showing how lives of girls who are forced into early marriage are ruined. The Parliament in 2006 had even passed a law prohibiting child marriage.
However, the law — a toothless one — has failed spectacularly, and child marriages persist in rural areas, despite efforts of states to weed out the phenomenon. In this case, however, the buck does not stop with the law, but with us. A society that looks at its girl child as a burden must face up to its misogynistic streak.
In states like Rajasthan, Bihar and Jharkhand, child marriage is considered an inextricable part of culture, having wider social currency. The challenge before Indian society seems virtually insurmountable: Will it overcome its legacy of toxic patriarchy? If it is unable to do so, it will be countless women of this country who will have to pay the price, as they have been doing for decades. It is high time we as a society introspect about how we treat the women in our lives.