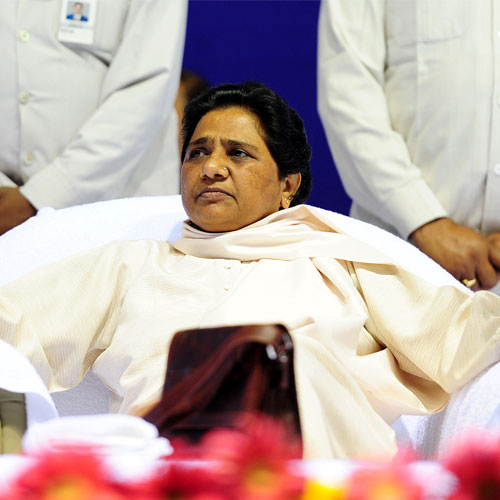 With BSP supremo Mayawati aggressively courting the Muslim community in Uttar Pradesh, the Samajwadi Party has much to worry about. To widen the BSP's social base, Mayawati has offered tickets to Muslim candidates in 18 Lok Sabha constituencies. In 2007, she had achieved the near-impossible by charting a Dalit-Brahmin social alliance that powered the BSP to power. The unravelling of this alliance was partly to blame for the BSP's electoral setback in the 2012 assembly polls. The loss seems to have taught her a lesson: the need to widen her umbrella coalition to include more social groups. Well aware of the growing disenchantment with the Akhilesh Yadav government, Mayawati's used her phenomenally well-attended Lucknow rally to remind Muslims and other sections of her administration's law and order record. In Akhilesh's tenure, UP has been hit by a streak of communal rioting culminating in the devastating Muzaffarnagar-Shamli riots.
Mayawati's attempts to create nostalgia for her rule cannot rest solely on Akhilesh's failures. The allegations of amassing disproportionate assets, corruption in building of parks, legislators with criminal cases, and the multi-crore NHRM scam in which her ministers were implicated have done her much damage. Akhilesh's promise to revamp the SP and begin on a fresh slate worked with voters in 2012. Similarly, Mayawati has to be candid about her mistakes and change her style of functioning. But an apology to those upset at her for constructing the imposing Dalit Prerna Sthals at Lucknow and Noida or erecting statues of Dalit icons, including herself, at considerable public expense may not be forthcoming. For a community, discriminated and oppressed for two millennia, and with no monument to call their own, Mayawati and most Dalits view the Dalit Prerna Sthals and the statues as an expression of Dalit assertion and symbols of political power and prestige. While statues of living persons are an oddity even in idol-crazed India, Mayawati has positioned herself alongside other mythological, historical and modern Dalit icons to signify that she completed what they began.
But even a skilled tactician like Mayawati has to accept that identity politics or social engineering may not be enough to trump the political changes India have witnessed in the past year. Already, the Aam Aadmi Party has hurt the BSP in Delhi where its vote-share plummeted from 14.5 per cent in 2008 to just five per cent in 2013. Delhi's Dalits, were swayed by the AAP's pro-poor, good-governance slogans and the broom symbol, and the pattern could repeat in Haryana too.
Here, the BSP was making impressive inroads into the Congress' traditional Dalit votebank since a string of sexual assaults and caste violence on Dalits commenced in 2012. Mayawati's remark that Dalits were not "aam aadmi" as they still suffered oppression reveals a mentality that thrives on stoking Dalit weaknesses rather than their aspirations. Mayawati is a unique regional leader with pan-India ambitions. Her plan to replicate the BSP's UP strategy — first consolidate Dalit votes, then enter into political alliances, finally create caste/social alliances — has slowed down in other states. A course correction — decentralising authority within the party, awarding tickets to clean candidates, and a socio-economic reforms agenda — has become inevitable for the political class; and autocrats like Mayawati are no exception.