Discovering films like Amour (Love), Jagten (The Hunt) and Dupa Dealuri (Beyond The Hills) is what made the 2012 Cannes Film Festival truly memorable.
The realisation set in on the final day — I had spent 12 days living every film fan boy or girl's very wet dream. I'd watched some of the world's finest films, hobnobbed with international stars — okay, spotted them mostly — and soaked in the beauty that is the Cannes Film Festival. Now here I was, seated in the Grand Theatre Lumiere, the crème de la crème of festival movie theatres as the closing ceremony unfolded. On stage was the jury that included filmmaker Nanni Moretti, actor Ewan McGregor and the gorgeous Diane Kruger, along with actors Audrey Tautou and Adrien Brody, who were the award presenters, and the winner of this year's Palme d'Or, filmmaker Michael Haneke. That's when the realisation really set in.
Till that point, Cannes Film Festival had mostly been a blur. The first thing I noticed when I got off the bus at Cannes (I was staying at La Bocca, which was a 10-minute bus ride away) was a giant hoarding of Alfred Hitchcock pointing a finger at me, with the French Riviera in the background. That image encapsulates the spirit of the festival. You immediately realise you're entering a space that has in the past seen the likes of Hitchcock, Ingmar Bergman, Michelangelo Antonioni, Martin Scorsese and other filmmaking greats. Every street corner is haunted by stories of movie makers you've admired, stars you've been in awe of, and films that have blown your mind over the years.
All of which served to leave me in a daze when I entered the Palais, which is the festival venue and a sprawling complex that houses five theatres including the Grand Theatr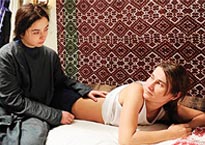 e, press conference rooms and the market where films are sold and bought. The buzz at the Palais is infectious, with filmmakers, journalists, publicists and other industry folk milling around, deciding which films to watch, discussing what they've already watched or those they've made and want others to see.
What makes Cannes special, I wondered after the madness of the first few days? Is it that some of cinema's most popular icons seem to be suddenly accessible? Hogging the limelight are actors, small, big, nondescript. Marion Cotillard, Brad Pitt, Ben Stiller, Nicole Kidman, Matthew McConaughey, Benicio Del Toro were just a few of the stars I saw at close quarters.
The excitement associated with watching Hollywood stars in flesh and blood dies down, though. So does the joy of being at Cannes's famous sundown parties. Ultimately, the films are what make Cannes special. You only see the red carpet appearances on TV and in print, but it's cinema that truly makes everyone go gaga at Cannes.
For me, the festival was about discovering Haneke's soft side, which he revealed in his prize-winning film Amour (Love), about the romance between an ageing couple after one of them is struck with a life-threatening illness. I found myself drawn into a moving tale about a schoolteacher ostracised by his city when he is wrongly accused of sexual abuse in Danish filmmaker Thomas Vinterberg's Jagten (The Hunt). Then there was the spine-chilling exorcism of a troubled teenager in Cristian Mungiu's Romanian thriller Dupa Dealuri (Beyond The Hills). Experiencing these and other films, like Abbas Kiarostami's Like Someone In Love and Wes Anderson's Moonrise Kingdom, with their makers present at the screenings on most occasions, is what made Cannes truly unforgettable for me.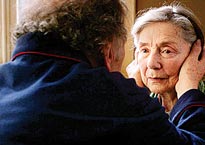 As did meeting people like Jay Koller, who has been visiting Cannes for the last 41 years, without a break. A veteran Israeli filmmaker, distributor and sales agent, Koller's enthusiasm for the festival rivalled mine. "I loved it four decades ago, and I love it even today," he said to me with childlike glee. "The films, the people, the energy – all of it makes Cannes memorable."
My most cherished memory from Cannes, though, was trooping into the Salle Debussy theatre on a rain-soaked evening to watch Gilles Jacob's documentary, A Special Day. Jacob has been president of the festival for over three decades now. He filmed 35 of the world's best filmmakers over a single day, five years ago, when the festival celebrated its 60th anniversary. The 53-minute documentary premiered at the festival and I went in on an impulse, entirely unaware of the treat that lay ahead of me.
On stage, before the film started, stood filmmaking greats like Roman Polanski, Abbas Kiarostami, Nanni Moretti, Ken Loach, Jean-Pierre and Luc Dardenne and David Cronenberg (they are among the directors featured in Jacob's documentary). Being part of the audience that applauded the genius of the filmmakers on stage and celebrated their work, while being so close to them, is something I will never forget. After all the glamour and glitz of the festival, this tribute to cinema is what I remember most vividly. It's my very own Cannes moment.
Aniruddha Guha somehow finds the time to write on films between watching and discussing them over cups of black coffee.