Since the law does not allow us to watch death-matches anymore, modern man has devised the closed-door attrition-based reality show instead.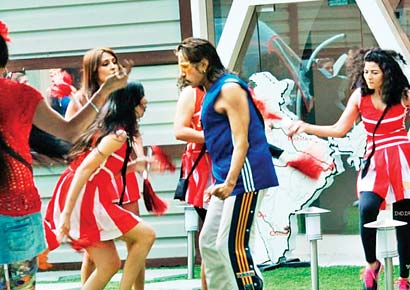 Ever since the international hit reality game show Big Brother was adapted for Indian audiences as Bigg Boss (evidently their makers thought the Orwellian reference is too esoteric for the target demographic), it has become a pop-culture phenomenon. In its Mount Doom-like fires have been forged hardened Page 3 gladiators like Rakhi Sawant, Kashmira Shah, Rahul Mahajan, Payal Rohatgi, Kamal Rashid Khan, Dolly Bindra, Veena Malik, many of whom have gone on to greater and better things. And the biggest testament to Bigg Boss's success? Five seasons and it still persists.
This season started with an intriguing premise, one that I confessed totally hooked a fan of '80s and '90s Bollywood like me: Put ace villain Shakti Kapoor in a room full of women, an act supposedly as explosive as introducing a drop of water into a jar with solid sodium and chlorine gas. While intriguing no doubt it had one fatal flaw, namely the assumption that the character Shakti Kapoor had played in countless movies, that of the "main jawaani ko soongta hoon aur kaliyon ko masalta hoon" nanha-munha pouncing upon kacchi-kalis like a cat on mice, was indistinguishable from Shakti Kapoor the person. As the days went on, people realised how wrong the assumption had been — the real man could hardly pick a fight, kept a distance from most of the women and moped around, rambling on about recovering from alcoholism.
In short, he was guilty of the worst crime possible in a reality show like Bigg Boss. Shakti Kapoor was deadly boring. Just like Raageswari whose only problem was that she was overtly nice, so nice that no one really wanted to watch her.
What the awaam desire is very clear — borderline psychotic personalities, beautiful wannabes and the extremely loud and violent to go at each other, shout, scream, bitch, fight and then for variety, shout, scream, bitch and fight some more. That's what they tune in for, hour after hour, day after day, month after month and year after year, where the USP is that the conflict they see is "real" (or so they are told) as opposed to the manufactured one they see in the soaps.
What I find fascinating in all this is not what Bigg Boss says about the celebrities inside the house but more about what it says about us non-celebrities outside, how deep within, we are every bit as bloodthirsty as the ancient Romans who would throng the Coliseum to watch men and beasts fight each other for survival. Since the law, as it exists, does not allow us to watch death-matches anymore, modern man has devised the closed-door attrition-based reality show in its place. Unlike quiz and talent competitions or running-through-crazy-contraptions shows, here one cannot even pretend that it's about appreciating "talent". The contestants have a simple brief — distinguish oneself from their housemates by being even more ferocious, outrageous and devious than the rest, all so that us, the viewers who provide the eyeballs for the advertisements, can be, to paraphrase Maximus of Gladiator, "be entertained".
Am I ashamed by the realisation that, deep inside, I am so un-evolved that I take pleasure in human conflict?
I am.
Am I going to stop watching? Definitely not.
Because, as Bullah said so beautifully in the Citizen Kane of our times, the great movie Gunda: "Mazaa aata hai. Jab insaan paison ke liye kutton ki tarah ladta hai to mujhe bahot maza aata haaaaaaaain."
Arnab Ray is the author of the best-selling May I Hebb Your Attention Pliss