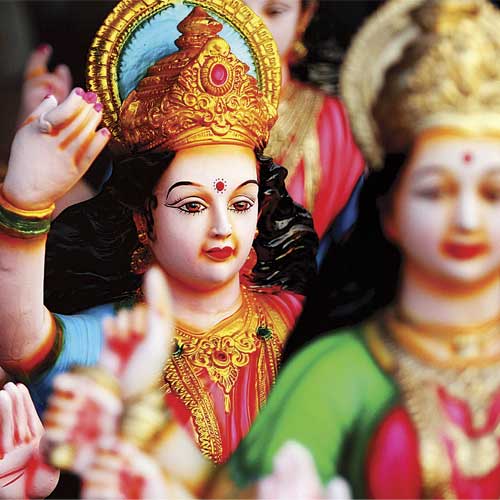 This Durga Puja that's still a few weeks away, I am expecting to see or hear of at least one image of the goddess to be made in the likeness of Durga Shakti Nagpal, the suspended sub-divisional magistrate of Greater Noida. An IAS topper, not yet 30, Nagpal has become a symbol of our nation's anger against politicians and a system that refuses to listen and that gives people only two choices: to bend or to break.
Nagpal isn't the first government officer to be transferred on a whim. Even a rookie reporter will tell you of stories of any number of IAS officers who have spent their careers as shuttlecocks. It is so common, that academics and students have done analyses of transfers as a phenomenon. A Harvard Business School study says the average tenure of an IAS officer is just 14 months.
But Nagpal's transfer has become a big issue not because of the way it happened, but because of why it happened and what it tells you about the growing gap between those who govern and the governed.
One thing it tells you is how our elected representatives treat administrators like private property.
Listen to Narendra Bhati, a local neta chosen by the ruling Samajwadi Party to fight the Lok Sabha seat from Greater Noida, casually taking the credit for getting Nagpal transferred in "41 minutes". This is no boast. In the clip, Bhati is not saying 'look at me, I am so powerful.' He is saying: 'Everyone does it, so did I.' All it took was a few phone calls, one to the chief minister and before that, one to the CM's father. Others, ministers and MLAs, mocked the young woman and even wanted the district magistrate, who gave her a clean chit, to be turfed out.
This episode also tells you that it's not just ministers and politicians who pull strings of administrators as if they are puppets. The IAS association has articulated its dismay at Nagpal's transfer, but many also tell you that she should have been more "astute" in doing what she did. This means she should have been politically sensitive to the situation i.e.
she should have considered that it's the month of Ramzan, that she was operating in a Muslim-dominated area and the Samajwadi government depends on the minority vote.
This essentially means that it is not enough for our young IAS officers to be correct and honest. They also need to be clever to survive. The subtext is this: don't hurt political interests and you will be fine. In the meantime, local goons illegally mine crores worth of sand or coal or whatever makes them money. After all, UP minister Azam Khan did say, "Loot it if you can", in this exact context. Take it from Kiran Bedi, who also lost the race to the top for being tough and outspoken. She says that officers are as much the enemy as politicians, because a police chief or chief secretary of a state has the power to stand up to politicians but most choose to be astute.
This is troubling. But the most troubling thing that comes out of this episode is the cynical political management of Muslims. Only politicians continue to deny that minorities like the Muslims are used as vote banks. In this entire episode, the biggest bogey that the Samajwadis raised was of riots that could have followed after Nagpal did what she did.
While it is indeed reassuring to see any government act in an anticipation of any situation, in this case that logic just doesn't wash because the state has seen multiple riots in the last 18 months of Yadav Jr's rule. But it took the government four days to transfer the civil administration in Bareilly after riots last year.
This constant refrain that Nagpal's actions would have caused riots exposes the political expectations of Muslims — that they would rather riot than support the rule of law when their religion or community comes into the picture. But on ground zero, there was little to suggest that the locals were upset with the SDM's action. However, with so many netas circling the area like vultures, voices are emerging against Nagpal. To me, it seems that the SP politicians are unhappy with Nagpal not so much for bringing down the wall of a mosque (that is being contested anyway), but that she failed to actually cause a riot.
Because that is exactly what the SP thinks will send them laughing all the way to that particular vote bank.
The one last lesson from this incident is this: the young chief minister of Uttar Pradesh is not the forward-thinking, modern, reformist we all hoped he would be. Ultimately, he too opts to play old-school politics.
I'm reminded of something that happened when I went to cover his first campaign in Kannauj in 2000. It's quite the norm for the reporter to sit in the neta's car while he hops from one public meeting to another — en route, you get to do your interview and ask questions.
Fresh from his education in Australia, Akhilesh was candid and my cameraman and I were quite pleased with the material we were getting. But after two stops, he was pulled aside by one of his flunkies who, after some whispering, told us to follow in another car.
My cameraman guessed that the reason we were moved was that one of his aides felt a woman sitting in his car may send out the wrong impression to villagers. I didn't think much of it then, but now I wonder if Akhilesh's party is not just old-fashioned but that it also has a problem with young and empowered women.
Sunetra Choudhury is an anchor/reporter for NDTV and is the author of the election travelogue Braking News.