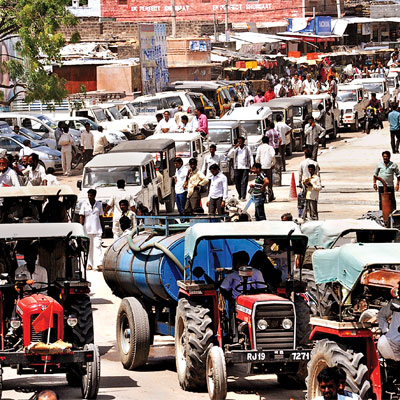 On board Lucknow-Allahabad Vindhyachal Express, she was travelling with her husband from Lucknow to Allahabad. She married a year ago. He is an engineer with the Northern Coalfields Limited in Singrauli in Madhya Pradesh. Her name is Aparna (name not changed), and she is 22. She is doing her first semester of MCom at Singrauli.
We did not speak till half way through. Once we got talking, we talked till she got down at Prayag, a halt before Allahabad.
She spoke lovely English — not that it is a qualification. It is an incidental aspect but it carried ironies of its own. She had done Indian School Certificate (ISC), the Senior Cambridge of yore, from St Mary's in Mirzapur with the familiar mathematics, physics, chemistry (MPC) combine. Then she did BCom in a college there. She wanted to do science but the Mirzapur college had no science course because there was no one to teach those subjects.
She has been speaking English at home right from kindergarten because they had to speak only English at school and they were fined if they slipped into Hindi. So now, she and her siblings — a younger sister who is now in her first year BCom and a brother who is in class IX speak with each other in English. We must speak in our own language, and not depend on borrowed languages, she says with genuine anger and passion in her voice, unaware of the irony of her remark in English.
Why did she not go to Banaras Hindu University (BHU), which has splendid science departments when Mirzapur is next door to Benaras/Varanasi/Kashi? With a resigned smile — there was utter innocence and sadness in that smile — she said that she did not get enough marks to get through in the general quota. Yes. There was a hint of bitterness about students who go through the reservation route.
She said that Mirzapur was not a place to grow up for a girl, and neither was Uttar Pradesh. "Girls are not safe," she said in a matter-of-fact tone. She also felt that it was impossible for girls to go and stay in a hostel for studies because of that sense of insecurity. "At least the boys can manage," she said.
Her experience of college in Mirzapur had left her bitter. She felt that students union elections were a dangerous phenomenon because there was so much bullying, especially of girls during the run-up to the election. Boys from rich families with cars and no interest in studies contest the elections, and even land up at girls' homes to take them to the college to vote. "I refused," Aparna said, again that anger showing through her soft face.
Her school days were good but then it was an exception in Mirzapur. In other schools, the teachers cowered before the rich parents of students, and even the students. This was so in college as well. The students would humiliate the teachers, and their parents would support them, she said. In college, one of the unruly students would drag his desk to a cluster of students writing their examination to copy from their answer-sheets, and the teacher would be a helpless witness to such criminal behaviour. These had been the memories of college days in Mirzapur for her. She said in a philosophical tone unbecoming of her age, "It is not enough to have wealth. Education is more important."
She saw corruption not just in the education system but in everything around her. "Even if Narendra Modi wins, nothing will change," she said in sheer desperation, but she wasn't cynical yet. Her father does his business according to the book, but even he is forced to bribe the local police. "When I ask him why does he have to bribe when he is not breaking any law, he says that as we pay tax to the government, this is a tax we pay to the police, the police tax."
"I hate politics," she said, and then corrected herself. "I am interested in politics. I like movies with a political theme. I saw Anil Kapoor's Nayak many times over," she confessed with delight. "I have not voted.
Whom will I vote for?" she moaned. Then in her innocence she came up with the idea: "I do think that there should not be a five-year term. It is too long and people will turn corrupt. There should be a two-year term so that they will not have the time to become bad."
She said her husband felt miserable to draw salary for his job because NCF had not been doing any work. The government has allotted the mines to private companies. She is unaware of the dark nexus underlying the policy. Singrauli is a huge government colony where people from all over the country are employed. But it is a desolate place. There is no movie hall and there are no decent restaurants. She stays at home and does not even engage with her neighbours.
This is the sad story of an Indian girl, who was good in science, who is articulate and intelligent, sitting on the edge of despair, still smiling because of the irrepressible energy of youth. Aparna should have had more opportunities. But in small towns in India like Mirzapur and Singrauli her spirits are wilting. She is not a victim of the classic kind, but she seems to be sitting in the middle of a wasteland called modern, 21st century India.
The author is editorial consultant with dna