Suchitra Sen's passing away is not just the end of an era. In many ways, she redefined stardom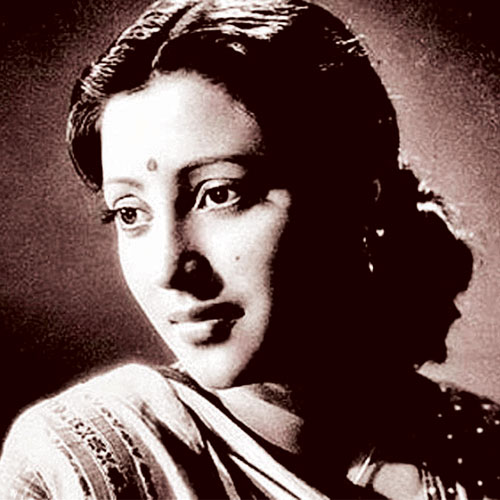 In a school examination we were once asked to write an essay on our favourite movie. I had written about Satyajit Ray's Pather Panchali. I hadn't seen Ray's landmark movie then, nor did I have a chance to read the epic novel by Bibhutibhushan Bandyopadhyay. The essay book at hand had bailed me out then.
Many years later, I had to write the same essay again. This time, however, I was on the look-out for a job. By that time I had watched Saat Paake Bandha — a film on a dignified lady's love for a modest earning professor against the wishes of her ambitious mother — several times. Each time I watched the movie, I wished the marriage between Archana (the role played by Suchitra Sen) and Sukhendu (Soumitra Chatterjee) had survived.
Ray's Pather Panchali may have ushered in a new era in the history of Indian films, yet I, as a middle class Bengali, couldn't relate to it. On the other hand, Suchitra Sen's Saat Paake Bandha, which fetched her the award of the best actress at the Moscow Film Festival — first by an Indian actress in any foreign film fest, portrayed the emotions and aspirations of the middle class. What made Suchitra Sen's portrayal unique in the film was that she was torn apart between her emotions for her husband and the aspirations of her mother. And it is this uniqueness which made her win the hearts and minds of thousands of cine-goers and made her an epitome of romanticism.
It is a well-known fact that Ray wanted to direct Devi Chaudhurani — a novel by Bankim Chandra Chatterjee where a charismatic lady led the struggle against the oppression of the British — with Suchitra Sen in the lead role. However, it didn't materialise as Suchitra Sen didn't have dates which matched with Ray's schedule. Ray also wanted Suchitra Sen to be an exclusive artiste for him, ie, she wouldn't act in any other film till the shooting of Devi Chaudhurani was over. Suchitra Sen, however, refused the offer stating that she couldn't overlook those directors who made her the star she was. This only proves that her path to stardom was not guided by intellectual fame alone, but also by pulling the right chords to attract mass adulation. Her performance as a nurse hired by a psychiatrist to develop personal relationships with male patients in the 1959 film Dweep Jele Jaai was hailed as one of her best.
Such was her glamorous screen presence and influence on people's mind that every young male lover in the 1960s and 1970s would have loved to see a Suchitra Sen in their fiancée. Obviously, the socio-historic context was important. India was a young nation, mired with numerous problems, including poverty and unemployment, and the toiling middle class looked at her as a respite in the midst of the struggle that they had to undergo.
With Uttam Kumar, Suchitra Sen formed one of the most formidable on-screen pairs in the history of Indian cinema. Their luminous presence was epitomised in films like Sare Chuattar, Harano Sur, Pathe Holo Deri and Saptopadi, only to name a few of the 30 films they acted in together. Yet some believe that Suchitra Sen demonstrated some remarkable acting skills in those films where she wasn't opposite Uttam Kumar. Apart from Saat Paake Bandha, Uttar Falguni (where she acted in a double role of a courtesan mother and a lawyer daughter), Dweep Jele Jaai, Bhagaban Shree Krishna Chaitanya are some of the films where Suchitra Sen was sophistication and dignity personified. And this sophistication and dignity were also her off-screen hallmarks. In a way, Suchitra Sen changed the way female actors were seen in the cinema industry, especially in Bengal.
Bharati Devi, Chhaya Devi, Kanan Devi, who were veterans to Suchitra Sen in the film industry, were undoubtedly gifted actors. However, they were submissive in their personalities and their on-screen presence was subdued by playing second fiddle to the hero. This male domination was in a way challenged by Suchitra Sen, when she shared the screen with Uttam Kumar as equal partners. In some of the films which she did with Uttam Kumar, her name came first in the posters and banners. And in films like Uttar Falguni and Dweep Jele Jaai it was Suchitra Sen who guided the film. It was the same with Gulzar's Aandhi, where she was cast in a role which was profoundly influenced by the persona of Indira Gandhi.
Aandhi was banned during the Emergency; later, when the ban was lifted and the film was screened in Kolkata's Nandan, we were college students then. I remember many of us had gone to watch Aandhi, only to see Suchitra Sen. Her Hindi accent in the film was atrocious, to say the least, and that she was aging when the film was shot was evident. Yet, people just wanted to have a feel as to how Suchitra Sen looked like. By that time she had already retired, and become a recluse, which made cine-goers more curious about her. Her feminine charm, emotive force and on and off-screen presence definitely strengthened the idea of feminism, but such was her dignified personality that Suchitra Sen never had to shout to make herself heard. She challenged patriarchy with her acting skills but, probably, never defied it.
No one knows why she turned into a recluse after her last film in 1978, yet it is widely believed that she took to spirituality. While her illusive retirement retained her image as a star in the hearts and minds of thousands of cine-lovers, it also probably defied the idea that stardom was not only confined to the screen.
The author is a journalist based in London and the editor of Prabashi Post. He spent much of his professional life working for the BBC