Will the Gandhi family keep him shut and let Congress ministers speak for him or will his individual voice come through again?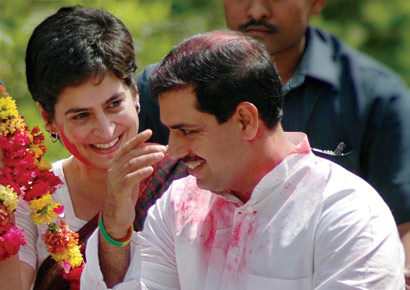 Will you check if Robert Vadra is speaking?" my editor said to me this week, just like every editor in every newsroom across the country must have asked their reporters. Just when we all thought Team Anna was so last year, their genius spin doctors swapped around a few faces, got rid of some old baggage, hunted out some old but sensitive story, and voila — the repackaged Team Kejriwal was back in the game. Just when we thought they couldn't surprise us anymore, after all they had called every politician, murderer and looter, and hurled every other abuse that could be imagined, Arvind Kejriwal and Co targeted the family that even their most bitter political opponents wouldn't touch. And that's why the hunt for Robert by all reporters in town, a hunt that went from looking for stringers in Singapore to checking updates on Facebook.
The social networking site containing his cosy group of friends is where Vadra decided to react first to all the allegations hurled at him. It's an interesting choice but first, I want to recall an incident 13 years ago when my editor at the time, gave me a similar assignment at the newspaper I worked: "You have to get an exclusive with Robert Vadra." It was a prestigious assignment and even though I was a rookie, I was chosen because I'd scored a 'scoop' picture of Vadra a few days before that. While doing a story on the growing number of gyms and fitness followers across the city (this was 1999, after all) I saw Vadra on the treadmill at the Habitat Centre gym. I asked him some inane questions about whether he came there a lot which he answered, but it gave me a valuable quote and a prized picture too. Unlike the Gandhis, clicking whose pictures might have an SPG heavy landing on you, there was no such trouble with Vadra.
Anyway, my 'scoop' meant I had to do the real tough job — hunt down Mr Priyanka Gandhi to ask him about living and being part of the family. It was just after Priyanka and Vadra had done a high profile campaign for Sonia in their UP constituencies. Throughout the campaign, while the couple was always together with Robert driving her around, it was Priyanka who spoke to the press. So we hadn't heard from him yet, and my editors thought it was a good interview to chase. After some real Sherlock moves, I scoured his cellphone number and called. We spoke, yet again he was polite, and I expressed my intent. After a longish conversation where I pushed for a meeting, I got this — "Why don't you fax me a list of your questions?" "Does this mean you'll do the interview?" "First, send me your questions."
So I did. I faxed an exhaustive list, even including the tricky ones about Sonia Gandhi and her politics. "Okay, I'll give you the interview." Oh joy! "But it'll be a written interview." I tried to convince him, but he was determined. My editors said it was still worth it, so I agreed. "When can I expect your answers?" I asked — "Give me a few days." But the few days turned into a week and more and he started avoiding my calls. It became clear that the interview wasn't coming. But being a newbie, I wasn't used to the fickle ways of public personalities, you see, so it felt like a complete betrayal to me. I'd told my editors I was getting the interview because he had agreed, so it felt like a personal failure to me. So I went to see him — at his office in Sukhdev Vihar, where I stood all day, fighting with SPG officers who'd argue Sahab was busy, and I'd say, "But please tell him that he is the one who agreed to give the interview, so how can he go back on his word?" I made endless calls to his home too, asking to speak to him, expecting at least an explanation for changing his mind.
"Priyanka Gandhi called me today," my editor had summoned me to his office. He was smiling, perhaps realising the extent of my doggedness in pursuing an interview. "She said they weren't giving any interviews, and she requested me to speak to you. She said that they'll call us when they want to speak." He was happy about how I chased the story, and I finally gave up on chasing Vadra. But this week, I recalled how my colleagues suggested that Robert was held back by 10, Janpath from speaking his mind. Maybe, they've always been afraid of him shooting his mouth off. Remember his comments earlier this year during the Uttar Pradesh elections, when said he would join politics when the situation demanded. Immediately afterwards, Priyanka clarified saying he'd been misunderstood and there was no reason to join politics since he was doing well in business.
And of course, now we all know how well he's done in business. But I wonder if Priyanka is telling him off again for calling people mangoes and calling this country a banana republic. Will they keep him shut and let Congress ministers speak for him or will his individual voice come through again? The individuality that made him show off his six packs on his Facebook album and give ample interviews to many. Of course, I, as an interviewer, was unlucky, but maybe one day?

Sunetra Choudhury is an anchor/reporter for NDTV and is the author of the election travelogue Braking News
On Twitter: @sunetrac