Sunday's cabinet reshuffle fell short of expectations it had roused that the Congress was preparing to unleash Rahul Gandhi's young brigade in order to make a break from the past.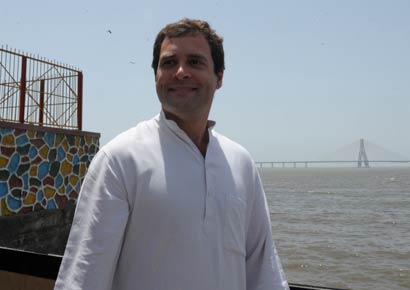 Sunday's cabinet reshuffle fell short of expectations it had roused that the Congress was preparing to unleash Rahul Gandhi's young brigade in order to make a break from the past.
Yes, some younger ministers were elevated and were given weighty ministries; Jyotiraditya Scindia got independent charge of Power and Sachin Pilot of Corporate Affairs. Pallam Raju, who is far from old, and performed well in defence, was elevated from MoS to Cabinet rank and got the important HRD ministry to prove himself.
Ajay Maken, 47, who also performed well as Youth and Sports minister, was upgraded to Cabinet rank. Manish Tewari, also 47, took an impressive jump from Congress spokesperson to Information and Broadcasting Minister.
If two or three members of the Rahul brigade who have worked in the Youth Congress with him and who were tipped to enter the Cabinet at the MOS level in preparation for a larger role later made it, the reshuffle would have borne a clear Rahul stamp. However, instead of signalling that Rahul was in greater command of the party and the government — without entering the ministry — the reshuffle became an exercise of give and take between the top three: Manmohan Singh, Sonia Gandhi and Rahul Gandhi.
It's not as if the Rahul brigade comprised elitist men and women wanting to enter government. The media was abuzz with the possible entry of Meenakshi Natarajan (from Madhya Pradesh, and an active MP), Pradip Majhi (a tribal from Orissa, who is also an active parliamentarian ), Manicka Tagore (from Tamil Nadu), Ashok Tanwar (a dalit from Haryana) and Jyoti Mirdha from Rajasthan who took on the pharmaceutical industry on pricing and drug trials head on.
The media could not have imagined these names. They were clearly informally briefed by the offices of the top three. But these names were either passed over in the pulls and pressures that were mounted, or kept for the party to work directly under Rahul, or they were reluctant to enter the government because it has lost credibility in the wake of multiple scams.
Admittedly, a pan-India party like the Congress cannot only focus on the youth. It has to take into consideration other factors like caste, region, states and experience. Despite these constraints, it could have stayed the course as far as its main theme was concerned. For better or for worse, Rahul Gandhi and his future team is the only card the Congress has up its sleeve to attempt to undo the damage scams and inflation have done to its image. This was main message expected out of the reshuffle which should not have been diluted.
The Congress used the occasion to shore up its Andhra flank that's considerably weakened by the exit of Jagan Mohan Reddy and the Telengana agitation. The PM inducted Chiranjeevi and upgraded Pallam Raju. Both belong to the Kapu community that the Congress is wooing.
Purundeshwari Devi, a Kamma, was slated to be upgraded as minister of state (independent charge) and get industry and commerce. But she botched her chances when, a day before the reshuffle, she told the media she was getting these portfolios and thanked the PM for it. Resistance immediately built up at the Andhra end, and from Anand Sharma who held Commerce and Industry. Thanks to the fight he put up, he retained his portfolio and also has an additional portfolio of textiles!
The PM also inducted four new MoSs from Andhra Pradesh to attempt to restore a caste and regional balance. One is a dalit, a Madiga from Telengana, another is a Reddy and yet another is from Rayalseema, Jagan Reddy's home territory.
Finally, the Congress is stirring to get a grip on Andhra Pradesh which brought it to power both in 2004 and 2009. But it needs to do more than send symbolic messages like appointing ministers.
There is much speculation about how Salman Khurshid — who found himself in the dock over allegations made by Arvind Kejriwal recently — made it to South Block as Foreign Minister, pipping Anand Sharma to the post.
It shows that the Congress leadership has decided to cock a snook at Kejriwal. Equally important, it may also indicate that the UPA wants to reach out to the Muslim world again. Khurshid may lose his cool with Kejriwal but he is known to be diplomatically savvy and is highly articulate. He made his mark in the MEA as MoS during Narasimha Rao's premiership particularly when Pakistan aggressively raised the issue of Kashmir at the UN.
The writer is a political and social commentator