With whom does it align itself on death penalty: Marx, Tagore and Gandhi or Lenin and Trotsky?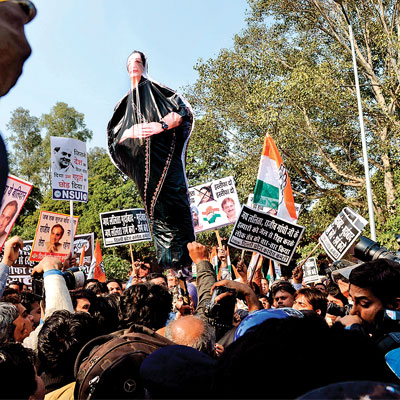 The commutation of death penalty for three convicts in the Rajiv Gandhi assassination case, Murugan, Santhan and Perarivalan, to life imprisonment by the Supreme Court (SC) due to "inordinate and unreasonable" delay in handling their mercy petitions is a shot in the arm for the cause of abolition of capital punishment. The court left it to the Tamil Nadu government to grant remission to the convicts using its executive powers judiciously. Political opportunism meant Chief Minister Jayalalithaa travelled beyond the SC verdict, not only releasing the three but also others undergoing life imprisonment in the same case.
After all, she had already tried to capitalise on local sentiments about the issue in 2011 when she got a resolution through in the Tamil Nadu assembly demanding commutation of the capital punishment sentence. But regardless of the controversy, the anti-capital punishment cause has been well served.
The pushback against capital punishment started with the groundbreaking verdict converting the death sentence of 15 convicts into life sentence on the same grounds last month. In that instance too, the apex court had cautioned the Executive (read the President) about the psychological disorder caused by excessive delay in dealing with mercy petitions.
Given that Karl Marx was emphatically against capital punishment — and given that this is a crucial moment in the national debate on the issue — it is now morally incumbent upon the communist parties to spell out their stand. There have been people like CPI(M) central committee member Mohammad Yousuf Tarigami, and CPI national council member Kamal Mitra Chenoy, now an important member of AAP, who have openly criticised death sentencing by the judiciary. But CPI(M) leaders Prakash Karat and Sitaram Yechury — as also AB Bardhan and D Raja of CPI — did not once demand abolition of the death penalty until last year when the CPI(M) central committee called for it.
There are conflicting historical impulses at work here. Marx — and Rabindranath Tagore as well — may have opposed capital punishment, but Lenin and Trotsky kept it in vogue. Victor Serge, a prominent member of the Russian Social Democratic Labour Party (Bolshevik) and associated with the Communist International's secretariat from the very beginning, revealed in his Memoirs of a Revolutionary that the death penalty was abolished by the provisional revolutionary government led by Kerensky in 1917, but selectively 'reintroduced' under pressure from the RSDLP (B).
"In the middle of 1920, Dzerzhinsky [chief of Cheka, secret police for repression of dissenters and enemies] recommended the abolition of death sentences throughout the country, except in districts where there were military operations. With the approval of Lenin and Trotsky", writes Serge, "the Cheka was assigned enlarged powers in early 1921 to kill dissidents".
The CPI(M)'s economic ideologue, Prabhat Patnaik, wrote erroneously that Bolsheviks had abolished capital punishment in 1917. But Prof Paresh Chattopadhyay, arguably India's most erudite Marx scholar, deserves thanks for expanding the debate by drawing attention to the clamour for capital punishment amongst the RSDLP(B) top brass — then called by Rosa Luxemburg as the "party of Lenin and Trotsky".
Official communists pooh-poohed Marx's statement in The Holy Family that "Crime must not be punished in the individual but the anti-social sources of the crime must be destroyed." In a polemical article in the New York Daily Tribune in February 1853, Marx raised a query: "Is there not a necessity for deeply reflecting upon an alteration of the system that breeds these crimes, instead of glorifying the hangman who executes a lot of criminals to make room for the supply of new ones?"
For all his cruelties, Stalin in a way just expanded the Lenin-Trotsky heritage of the death penalty — one that tramples the great slogan of the French Revolution — Liberty, Fraternity and Equality. Chattopadhyay states poignantly, "The horrendous acts of execution under the Stalin regime are too well-known to need any specific discussion here. However it is not very much known that years before Stalin had acceded to power as Lenin's nominee, death penalty was already well established in the Leninist regime."
Tagore in his treatise on nationalism criticised the death penalty in no uncertain terms: "Man in his fullness is not powerful, but perfect. Therefore, to turn him into mere power, you have to curtail his soul as much as possible. When we are fully human, we cannot fly at one another's throats; our instincts of social life, our traditions of moral ideals stand in the way. If you want me to take to butchering human beings, you must break up that wholeness of my humanity through some discipline which makes my will dead, my thoughts numb, my movements automatic, and then from the dissolution of the complex personal man will come out that abstraction, that destructive force, which has no relation to human truth, and therefore can be easily brutal or mechanical. Take away man from his natural surroundings, from the fullness of his communal life, with all its living associations of beauty and love and social obligations, and you will be able to turn him into so many fragments of a machine for the production of wealth on a gigantic scale."
Gandhi never supported the death penalty either. There is a great deal of apocrypha about his role vis-à-vis Bhagat Singh's execution, but what he wrote to the Viceroy at the time, Lord Irwin, was: "Execution is an irretrievable act. If you think there is the slightest chance of error of judgment, I would urge you to suspend for further review an act that is beyond recall." He famously indicted the "evil of capital punishment that it gives no opportunity to such a man to reform himself."
It's time for civil rights crusaders to strengthen the struggle for abolition of death sentences the world over. The CPI(M) behaves hypocritically in this issue. Its demand for abolition is, for the most part, on paper. Its central organ, People's Democracy, is yet to carry an article as a follow-up step.
The author is a Kolkata-based veteran journalist, specialising in Left politics and history and environmental issues