Indian women shine in pristine glory for their contributions to music and literature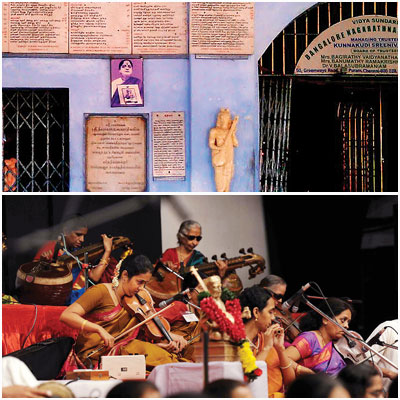 STAYING IN TUNE
Lying in the laps of some, painting red the lips of some, sporting with the bodies of some, Krishna played with the Gopis ….
(Translation from a Tyagarja Kriti, Tanayande Premayanuchu, by V Sriram)
Much has been said about writing alternate histories in recent times. One thing is for certain, there are histories (or herstories) that cannot be pulped. A recent trip to heartland Tamil Nadu quite reiterated this fact. I performed in Thiruvaiyaru at the Sacred Music Festival organized by the Chennai based Prakriti Foundation. This as most Carnatic musicians would understand, was like an ultimate dream coming true.
Thiruvaiyaru is a fascinating, sleepy town, which pretty much only wakes up once a year, its only claim to a glorious past — during the Aradhana (homage) for the most venerated composer-singer in Carnatic music- Tyagaraja. Only a few kilometres away from the temple town of Tanjore (Tanjavur), this was once home not only to Tyagaraja, but also the other two in the trinity of Vaggeyakars (composer-singers) in Carnatic music — Muthuswamy Dikhsitar and Syama Sastri. The genius of this celebrated composer trinity laid the foundation of what came to be regarded as the 'classical' in the form and content of music in South India.
The festival is, however, a significant effort in shifting this perception, for it is not only the concerts that are the objective, but also an attempt at heritage preservation and an exposure to the sacred architecture of the place. It builds into it trips to important sites of Chola splendour, including nearby towns of Tanjore and Tiruvarur. It aims to place Thiruvaiyaru as an important destination of respectable heritage, for people who once hailed from there to come by more often, and for artistes to find their own space. My own concert at the Diwanwada, Husur Palace, was a surreal experience. The place is a charming ruin, including a dovecote in the courtyard, painstakingly and beautifully lit up for the performance. But I was struck particularly by a predominantly young audience, mostly from the Music College in the town, which is again a reminder of 'status' this town occupies in the world of Carnatic music — really the sanctum sanctorum.
The centre of the world of Carnatic music for a long time — through the 16th,17th and 18th centuries — was the magnificent city of Thanjavur, which lies along the delta of the great Kaveri River. This until patronage shifted and Madras (Chennai now) became the new capital of this music in the early 20th century. It was — and is — a beautiful, fertile place with rivers. Temples, especially the mighty Brihadeeswara Temple was an important seat of music, dance and learning and even now overwhelms with its sheer scale and depth of architecture. Thanjavur used to buzz with vitality and the best musicians vied for positions of honour and privilege with the rulers — the Nayaks in the 16th and 17th centuries, and by the Marathas after that. Marathas, in particular, encouraged music in a variety of ways and they attracted the best and brightest musicians from all over South India, and so Thanjavur came to be the place that would nourish, foster and cultivate musical dreams and aspirations. Several of the Maratha kings actually authored musical treatises, in addition to composing songs.
An important person in this highly energized atmosphere of music and dance was the renowned Devadasi Muddu Palani. She was the court poetess and a concubine of the then 18th century Maratha ruler, Pratapasimha of Thanjavur. Pratapasimha was a great patron and lover of music, literature and the arts. He honoured and rewarded Muddu Palani not only for her accomplishments in performing arts, but also for her scholarly achievements as a learned poet. She was well-versed in Telugu and Sanskrit. It seems poignant to say a little about Muddu Palani on International Women's Day today — she traces her lineage through her grandmother and aunt, imitating here the male composers who would always mention their paternal line!
Muddu Palani authored a controversial book, Radhika Santwanam (the Appeasement of Radha), also known as Ila Deviyamu (Ila's story). Consisting of 584 poems, it is replete with shringar rasa or erotic pleasure and presents the story of Radha and Krishna in a different perspective. It speaks of "another" love that Radha had for Krishna. Unlike the usual interpretations in Bhakti literature, where Radha is in a divine stupor, her soul yearning for Krishna, Muddu Palani delineates a relationship as that of a woman in the prime of her youth consumed by passion and love for her nephew, Krishna. The twist in the story is when Ila, the niece that Radha has brought up, is 'given away' to Krishna when she attains puberty, much to Radha's distress and envy. Krishna, after his marriage to Ila, comes back to appease a broken Radha.
After a British lexicographer located the manuscript in 1855, the book was published for the first time in 1887. But it came with an edited introduction, that obliterated what Muddu Palani had said about herself, her literary and musical lineage, and other couplets that were seen as "objectionable". Considered by several scholars as a work of great literary worth, the book was written off by reformists of the anti-nautch movement, as one authored by an "adulteress", and the "shamelessness" of its contents were not surprising, given that it was written by a "prostitute".
But most interestingly, it was another Devadasi, an influential and famous one, who took on the task of republishing this book in 1910, including her own prologue as to why the book deserved more attention, and why it needed to be read by the world at large. Bangalore Nagaratnamma, the celebrated Devadasi, makes a distinction between an "adulteress" and a "Devadasi" in her write-up and questions the hypocrisy of the reformists who allow for more graphic writings by men as acceptable while those of scholarly women as vile! The book, again, came under severe criticism to a point where it was officially banned in 1911. Copies of the book were seized and destroyed. And it was only after Independence in 1947, that the ban was withdrawn by the then Chief Minister of Madras, T Prakasam.
Nagaratnamma called herself a great admirer of Muddu Palani, and in the same breath also a devotee of Tyagaraja, whose compositions she sang at several of her concerts. All of this becomes more curious, funny and even ridiculous to me when I visit the samadhi of the Saint Tyagaraja, only to find that it has been constructed, supported and looked after by a trust set up by this celebrated Devadasi — Bangalore Nagaratnamma. No pulping then of this elegant tribute to one of the most respected musical gods in the rather elitist world of Carnatic music.
The author is a musician