It remains to be seen whether Jitan Ram Manjhi can emerge from Nitish Kumar's shadow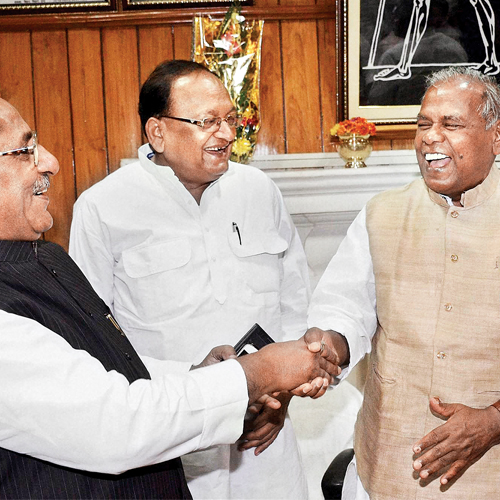 A year after Indira Gandhi, who was initially dismissed as a 'goongi gudiya' (dumb doll) by Socialist veteran Ram Manohar Lohia, became the Prime Minister in January, 1966, Bihar, like several other states, plunged into political uncertainty. Between 1967 and 1972, nine Chief Ministers had come and gone. Besides, there were three phases of President's Rule. One of the CMs lasted for five days, while two others for 13 and 51 days. The split in the Congress in 1969 and the emergence of different socialist parties further contributed to this instability.
This aya Ram, bhagaya Ram politics continued till the 1972 assembly elections when the Congress returned to power. By 1969, with the Congress party split, Indira Gandhi was no more a dumb doll. She got rid of the party boss K Kamaraj and others, who, by getting her installed as the Prime Minister, wanted to influence — if not run — the government from backstage.
A couple of these Bihar CMs were just proxy rulers. Bhola Paswan Shastri, a Dalit, became the Chief Minister thrice — once for only 13 days.
On May 19, 2014, three days after India elected a vocal Prime Minister, Narendra Modi, the state of Bihar got a new CM, Jitan Ram Manjhi, a Mahadalit, who started his political career in Indira Gandhi's Congress in the late 1970s to become its MLA for the first time in 1980.
During the heyday of Lalu Yadav in the 1990s he crossed over to the Rashtriya Janata Dal. Being a Musahar, the weakest of all the 22 Dalit castes of Bihar, he quickly got a ministerial berth. Musahars, also known as Bhuiyan, lead a sub-human life in large parts of south Bihar, especially in old Gaya district. Most of them are landless labourers who still survive by eating rats. The very name, Musahar means rat-eaters.
When Nitish became the Chief Minister on November 24, 2005, Manjhi was among the ministers who took the oath of secrecy. The news came as a surprise as till a few months before that he was in the RJD. As Nitish needed a man from Musahar caste to neutralise Lalu's claims of social justice, he immediately made Manjhi a minister. But later Nitish had to seek his resignation as during the first interaction with the media after becoming the CM, he learnt that Manjhi's name had figured in an education department scam when the latter was the minister of state for education in the previous Rabri Devi government.
Why an image-conscious Nitish had initially overlooked this much publicised scam and Manjhi's alleged involvement is still a mystery. He, however, overcame this embarrassment by sacking Manjhi. That was the first decision of his government. His last, of course, was taken on the afternoon of May 19, to handpick Manjhi as his successor. In between, Manjhi was re-inducted into the Nitish cabinet after his name was cleared from the scam.
Nitish's choice of Manjhi as the Chief Minister of Bihar is being compared to Lalu Prasad's decision to pick his homemaker spouse, Rabri Devi, who was entrusted with the responsibility of ruling the state on July 25, 1997 when her Chief Minister husband had to surrender before the CBI court in a fodder scam case.
Analysts are of the view that Nitish took this decision after his party, Janata Dal (United), meekly surrendered before the massive NaMo onslaught. It is feared that the verdict in the people's court may have the similar impact on Nitish's political future as the CBI court ruling has on Lalu's. Like the RJD chief, Nitish too may not become Chief Minister once again. However, unlike Lalu, he is not facing any legal hurdle.
Lalu continued to rule Bihar through his wife till March 7, 2005 when Rabri was voted out of power. He even served as the railway minister in UPA-I between May 2004 and May 2009.
The big question doing the rounds in Bihar is why has Nitish opted for low profile Manjhi when he had Mahadalit speaker, Uday Narayan Chaudhary, seasoned minister, Ramai Ram and much younger Cabinet colleague, Shyam Rajak. They are Mahadalits yes, but they come from Pasi, Dhobi and Ravidas castes, who are economically and socially better off than Musahars.
By naming Manjhi as his successor, Nitish has played a big gamble. Manjhi is considered more pliable and less assertive than others. In fact he has never handled any important portfolio in any Cabinet.
The big challenge for the new Chief Minister is that he is succeeding a high-profile leader, who has the reputation of turning Bihar around, at least in the first few years. If, after the party's drubbing in the Lok Sabha elections, it became difficult for Nitish to tackle a growing dissidence, how would Manjhi be able to overcome the situation?
Manjhi's performance would be closely monitored by the main opposition, the BJP. Whether he really comes out of the shadow of Nitish or not depends on his political skills. Time is running out for him as Bihar will go to the assembly polls after 16 months. He may not get a free hand to rule.
Many political observers are of the view that by resigning from his post Nitish has pre-empted the rebels' move to join hands with the BJP. However, he is not very clear whether he really wants to move to Delhi and fill the vacuum in opposition leadership created by the decimation of the Congress or stay in Bihar to re-emerge as the likely chief ministerial candidate for the assembly elections in October 2015.
He can surely follow Jayalalithaa's example, but in a different way. After the Supreme Court quashed her appointment, she made the juniormost minister, O Paneer Selvam, a first-time MLA, the Chief Minister of Tamil Nadu in September 2001.
However, in March 2002, Paneer Selvam resigned as the Chief Minister and Jayalalithaa was sworn in after the apex court overturned her conviction and she won a by-election from the Andipatti assembly constituency.
During his stint as a Chief Minister, Paneer Selvam, the first person from Thevar, a backward caste, to reach this post, was widely criticized for heading a puppet government run by Jayalalithaa. Only time will tell whether Manjhi emerges as strong as Indira Gandhi, who pushed Kamaraj and the Congress Syndicate out, or ends up becoming Paneer Selvam.
The author is a senior freelance journalistbased in Patna