I need to know and so does everyone else, whether Kasab repented in the end.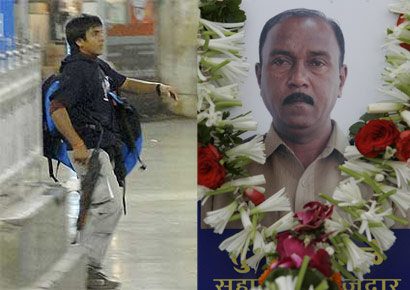 Being the daughter of a now-retired, proud, government officer, I've always had great respect for the bureaucratic system and its idiosyncrasies. I call them idiosyncrasies because what else would you call the overzealous need to constantly hide, even the most innocuous thing from the public eye.
Growing up and already displaying my snoopy instincts I'd often secretly go through his stuff and I remember, sometimes getting thrown by something like a list of stationery with the words 'classified' neatly typed on top. And of course, I couldn't ask why so much of his stuff had 'Top Secret' written on top, when they weren't really secret material.
So when I grew up and became a reporter, and started dealing with officers like my father professionally, I was indulgent with them. I would never look to them for stories, but being sentimental about my father, I forgave their obfuscatory ways, euphemising it as old-fashioned.
My colleagues could never understand why babus wouldn't want to share their departmental directory in which the most damaging secret was the residential number of an officer, or why the in-house journal was kept under wraps. But whenever I was refused some innocuous information, I understood where this came from – a sense of unquestionable loyalty and playing by the rules.
But my sympathy has worn thin over the past couple of days, ever since the information about Ajmal Kasab's hanging became public. Don't get me wrong. I'm not being petulant about the fact that I wasn't given an opportunity to pitch my OB van at the site of his hanging. I'm not huffing and puffing and venting about the secrecy because I didn't get to know the minute President Pranab Mukherjee's office cleared the file. I understand that my ultra-sensitive, over-excitable media community has the potential to do some damage, and this issue needed a delicate touch. All I'm saying is that now that it's over, can we please have clarity on what happened?
For instance, was it really called 'Operation X'? This, really obvious, code name first popped up in the media after the official confirmation came from Maharashtra Home Minister RR Patil at a press conference. No one in Delhi wanted to authenticate the name and home minister Sushil Kumar Shinde told NDTV that he had never heard of it!
Maybe, I've watched too many Hollywood movies to be fixating on the name, or maybe I'm erring in equating it with a code name like Operation Neptune Spear that eliminated the most wanted man in the world, Osama Bin Laden. "Don't equate the two", one Congress leader told me.
"Osama was killed, while Ajmal Kasab faced the due process of law." Yes, he is right. But the due process also means that hopefully India, unlike America, has nothing to hide, because we used legitimate means.
Can the government put on record the sequence of events and is it willing to explain all aspects? Aspects like what happened in the few days before the execution. Kasab's state of mind and whether he had become incoherent and mentally unstable due to prolonged isolation? Why was his body buried in Yerawada jail and whether there is a precedent for such burial? What is the long term plan for his remains?
I want a definitive answer from someone on record. My father tells me that the government cannot give me these answers and that it is unfair to keep badgering them. But, I can't help it. I am just one of a billion, that watched helplessly as Kasab gunned down people like me and those who were supposed to be protecting me. Even without losing anyone, I feel like I've lost a lot, I feel like I've shared in the trauma of 26/11. And I really wish someone would tell me whether Kasab actually said, "Maaf karna, aisi galti dobara nahi hogi." (Forgive me, I won't make this mistake again.) I need to know and so does everyone else, whether Kasab repented in the end. That may go a lot further in getting closure for victims' families and as far as I'm concerned, the best reason for the government to lift its non-disclosure policy.
Sunetra Choudhury is an anchor/reporter for NDTV and is the author of the election travelogue Braking News On Twitter: @sunetrac