Mulayam Singh looked at me as if I was the one just starting out in my line of work, instead of it being the other way around.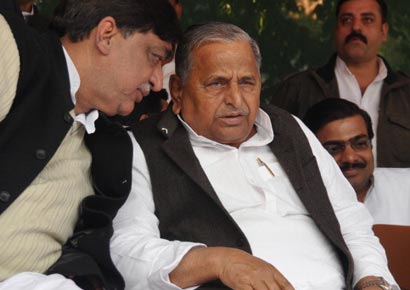 It's not really the kind of conversation you'd have at a cocktail party, but being a stranger to such dos and surrounded by unfamiliar faces, I had to find a common ground with the only person I could converse with. "So now that the vote is over and the government has won, how did you manage it?'' I asked.
He was in his early twenties, graduate of one the country's new breed of law schools, and part of the young pool of backroom boys that some UPA ministers have started opting for as their team. I've always been curious about them because slowly, they've started using their tablets and their smartphone knowledge to edge out the old, paan-chewing lot of ministers' lackeys. And I was hoping this informal setting would induce a shot of candour into our exchange.
"You were there, you saw it." He wasn't opening up that easy, but I persisted. "How did the government get Mayawati to vote for it? What did you all promise her?'' Now, I knew that the chances of his actually knowing all the negotiations behind the vote were unlikely, but I still wanted a bit of an insight. As a political reporter, we are so used to having politicians as our sole source of information, it felt refreshing to have it from a backroom boy looking to make it his career.
"Do you really think it works like how you journalists make it out to be?" he said, "Do you think leaders like Mayawati and Mulayam Singh Yadav are just being forced to vote with or against the government on the basis of CBI cases?" He looked at me as if I was the one just starting out in my line of work, instead of it being the other way around.
And for that moment, just the fact that it was coming from a newbie, made me want to believe everything he was saying. Did all of us reporters have it all wrong? Were we caught in some web of cynicism that made us believe the worst of everything? "Many MPs don't really know the nuances of every bill, every legislation, so it is my job to brief them and convince them to vote for us," he said. "And to offer them money, maybe?" I only half-joked.
"I can't believe you just said that to me," the kid thundered at me as if I had just told him Santa Claus was just a stuff of dreams. It threw me off my game a bit because for a minute, I actually questioned myself whether the cash-for-vote scam actually did happen during the nuclear deal negotiations in the monsoon session of 2008. Didn't MPs actually walk in with bags of money to the well of the house and show what they had been lured with to vote for the government?
And I didn't have to go so far back. Didn't the so-called Tool of UPA manipulation also confirm the same — US Misra, the ex-CBI director who had also featured in this column recently (http://tinyurl.com/cr8w464), told me earlier this week while commenting on the Supreme Court's judgement on Mulayam Singh Yadav disproportionate assets case: The fact that he had served during the NDA and the UPA regime from 2003-05 and handled the Mayawati case made his disclosures even more telling.
"It happened in my time also — sometimes, we'd investigate cases against prominent leaders, some influence from somewhere would come up to keep it pending for some time or to give it reports this way or that,'' he said, explaining, "I am not saying anything, but the government pressure comes and that's why we cry that we want independent investigation and especially when the investigation is against political biggies.''
The 'biggie' he inquired into was the BSP chief whose assets he started probing when he took over the CBI chief's job, and which he was asked to keep pending for years, till the Supreme Court decided earlier this year, was an illegal investigation.
That was my comeback for this new-kid-on-the-political-block, who had been told by his mentors that the government doesn't use any dirty tricks to get its way with political rivals, which is something that they want us hacks to believe as well.
But there are too many voices, like Mr Mishra's, from within the system who are saying exactly the opposite, adding to the smog of suspicion that has always hung over tricky political situations and their trickier outcomes.
Sunetra Choudhury is an anchor/reporter for NDTV and is the author of the election travelogue Braking News
On Twitter: @sunetrac