The conviction of former Haryana chief minister Om Prakash Chautala under the Prevention of Corruption Act should warm the cockles of those espousing the cause of probity in public life.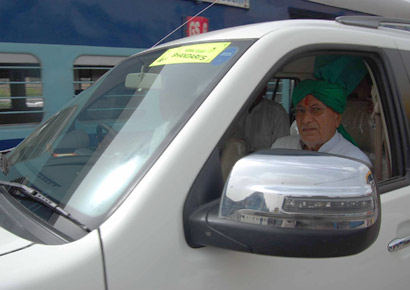 The conviction of former Haryana chief minister Om Prakash Chautala under the Prevention of Corruption Act should warm the cockles of those espousing the cause of probity in public life. Let us not gloat over this uncommon happening, but rest in satisfaction that there is still more than a semblance of justice in our country, and the dictum 'no one is above the law' is no empty rhetoric.
I strongly believe that on such occasions there should be no malice or political bias, but only the demonstration of a resolve to aid in cleansing public life in our country. And we definitely need to clean up quickly, because we are now looked upon internationally as one of the most corrupt nations.
The Chautala judgment has shown that judicial officers at the lower level are exhibiting far more courage than before, and that they are prepared to inflict the maximum penalty for any offence.
This should send shivers down the spines of many public servants. Trial judges deserve all the support they need to continue with this drive. This is the occasion to improve their working and living conditions, which remain abysmally poor. Court premises are still a shame in many parts of the country. Without a more hygienic environment, judges cannot hear cases with the care they need and deliver quality judgments. Improved work atmosphere would also partially deny them the excuses they now trot out for granting unnecessary adjournments which contribute to delays in bringing cases to conclusion. That the Chautala case needed 10 years to reach this stage is a poor commentary of the state of our criminal justice system. There is in all such cases contributory laxity and prevarication on the part of the prosecution, defence and judges. There is no accountability for delay, and it is equally true that the superior judiciary is sometimes a little too kind to erring officials.
I must compliment the CBI for its success in this apparently politically surcharged case. The judgment speaks volumes for the quality of investigation. Of course one heard a comment during the TV debate that the CBI did a good job only because Chautala did not belong to the ruling coalition. I thought this was unfair to the organisation which has won many cases of equal importance. Critics should not demoralize CBI officers unless they have strong evidence of overzealousness and vindictiveness on the part of individual officers.
The perception that the CBI is the handmaiden of the ruling party is difficult to erase, unless the demand for CBI's autonomy is conceded by the political class. I know that an autonomous CBI is a pipe dream in the current polity. But let us not give up the fight. Well meaning citizens need to rise as one to at least partially achieving the objective of removing the political fetters on the CBI. I am delighted that Rahul Gandhi has hit out against corruption in public life. He seems to have the resolve to do something concrete. I am sure he has also the political clout to bring about major reforms which would include objective and serious anti-corruption work. Let us wish him success in this crucial area of governance. Otherwise we will continue to rank shamefully low in the comity of nations.
Those convicted in the Chautala case include senior civil servants. This is sad. It is not clear whether they were willing abettors or merely victims of intimidation. In either case they were rightly convicted. The law does not make a distinction between those who willingly cooperated in committing a crime or colluded merely because they did not stand up to resist unethical suggestions. There is the famous statement attributed to the Shah Commission which looked into excesses during the Emergency, according to which, some civil servants 'crawled' when they were merely asked to 'bend'. Civil servants should be fearless and clinical while making notes on file, however unpleasant that might be. The greatest advantage of that is you do not have to remember what your stand was on a particular issue. This is particularly when you are hauled up later on by an investigation agency. A contemporaneous written record will come to your rescue and not the demanding minister who would not stand by you if you were caught for indulging in unethical practices. A defence to the effect that your minister wanted you to do something not sanctioned by law or standing orders of government and that you could not therefore apply your mind will never was with any probing agency. There is no other way a civil servant can navigate the muddy waters of administration.
The writer is a former Director of Central Bureau of Investigation, New Delhi.