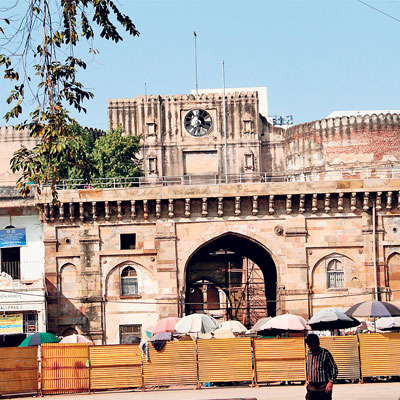 Downtown Ahmedabad is all set to get a new definition in coming months. Two projects of the Ahmedabad Municipal Corporation (AMC), Bhadra Fort revitalisation and Sabarmati riverfront, will give the rapidly urbanising city what it very badly needs — public space with a distinct historical and cultural identity, and avenues for entertainment that are easily accessible even to the non-affluent sections of the society… entertainment besides watching a movie and munching garrulously in a restaurant.
The river Sabarmati, the most distinctive identity of the city, has been given back to the city in the form of a riverfront — gardens for children to play, lovers to make hay and realtors to soar into the sky with high-rises. The historic Bhadra Fort to Teen Darwaja area, which was choked with squatters, has also been returned to the city in the form of a pedestrian zone, making space not only for hawkers to sell their wares in a much organised fashion but also allowing for citizens to admire the cultural and architectural marvels of the area. Besides, both these spaces will be great equalisers for the economically and communally polarised sections of society.
According to the new development plan of the state government, the 'central business district' (CBD) and these projects will be mutually beneficial to each other. Realtors are happy, residents are rejoicing, the urban bodies are winning more accolades than they can accommodate on their shelves and urban planners are getting the best CV boost.
Urbanisation is a magnet that brings with it its own problems. This fairy tale has a catch; an underbelly if you will. A tough challenge that the award winning local bodies continue to struggle with — the urban slums, fuelled by the ever increasing numbers of the urban poor, invariably migrants to the city. According to the Census of 2011, Gujarat's rate of urbanisation is the fastest in India. This means the number of people migrating from rural areas to urban pockets is one of the top parameters; whether these migrants are from the same state or another is in essence a political debate. 42.5% of Gujarat's population lives in urban areas. Urban planners in fact claim migration is inevitable and a sign of economic progress.
However, urban slums are the biggest drain on a city's resources. They occupy huge spaces in a land-starved city, a drain on resources as water, drainage and power connections will be illegal, often block prime real estate without paying any taxes and are a threat as breeding ground of anti-social elements.
The dark shade of the riverfront story is the rehabilitation mess of the communities living on the riverfront, admittedly squatters, but citizens of the country nonetheless, and therefore a responsibility of the state. For reclaiming Bhadra, over 1,200 hawkers were identified and a detailed database with photograph prepared. Half of them will be given space in the new plaza, and another half somewhere else. So far, the process has been smooth.
On the other hand, rehabilitation process for riverfront project got so warped all theoretical concepts failed. Rehabilitation houses were wrongly claimed and re-resold. Anti-social elements entered the fray. Riverfront development corporation & police failed to contain them. It would be misleading to fault only the state agencies. The regular increase in claimants for rehabilitation benefits in riverfront project is the perfect example of the times that lie ahead for any urban development body. And then there is the rapidly increasing problem of Muslim ghettos in the city, most of them slums. The state government had earlier identified nine slums and recently another 12 to rehabilitate under a public-private partnership project. None of the Muslim ghettos is included in these.
There are success stories, but fewer than the challenges. In Ahmedabad for instance, like Bhadra Plaza project, the Vastrapur lake reclamation was smooth. Earlier this month, I sat in on a lecture by Anthony Pellegrini from the World Bank on smart cities and slum upgradation. In introducing smart cities, he began his presentation by saying 'smart cities' are an antithesis of Indian cities today. He ended by saying smart cities are possible with political will. He wasn't particularly saying this in Indian context, but doesn't that pretty much sum it up? So, can Ahmedabad ever become a smart city?