Take every day as a new challenge and try to give your best. It will help you remain consistent. And as they say, after failure, success is just next door. So, stick to your basics.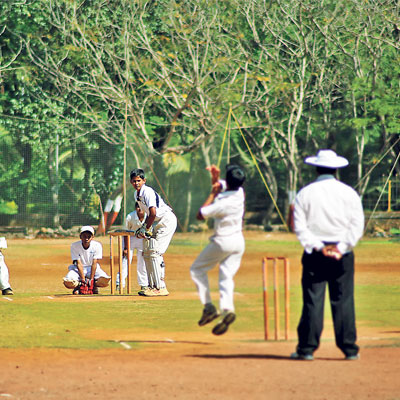 This week will be a crucial one for gentlemen of the game of cricket. Fortunes of many will change, especially those who haven't donned the Team India colours. Accounts of many domestic cricketers will swell after the Indian Premier League players' auction in Bengaluru on Wednesday and Thursday.
For the first time, uncapped players (those who haven't played for the country) will be auctioned. With IPL governing council asking players to decide their base price, a few of them have quoted up to Rs20 lakh, and may get more than expectations.
Players who have been left out should not feel disappointed. It is human to feel dejected when your friends, neighbours and teammates earn bigger success and you fail. It reminds one of a wise statement in the Aamir Khan-starrer '3 Idiots'. "It is difficult to digest your failure but even more difficult is your friend's success." Moreover, IPL is not the parameter where a cricketer's ability can be judged. No doubt it is a money-spinning league, but cricket is not just IPL.
Domestic one-day competition, Vijay Hazare trophy, is coming up. So it is important that focus be on the field and not off-the-field actions. Going by coaches' manual, consistency is a key element. Form is temporary while class is permanent. Forget what you have done in past— good, bad or ugly. Take every day as a new challenge and try to give your best. It will help you remain consistent. And as they say, after failure, success is just next door. So, stick to your basics.
Talking of basics, for the first time Central Board of Cricket Ahmedabad has hit a shot worth applauding — worked on its basics. It has appointed former Saurashtra captain Bimal Jadeja as the coach of district team/ academy. And Jadeja has accepted the job. Having worked with the Gujarat Cricket Association's Ranji Trophy team in the past, it is like demotion for him. But out of sheer love for the game, he put his ego aside and accepted the offer, exhibiting a true gentlemen's spirit.
Bapu, as Jadeja is known in the cricketing fraternity, brings vast experience of first class cricket. The veteran of 81 first class matches can handle a player who has failed to perform at higher level and needs to rehash his batting or bowling skills. Jadeja has scored nearly 5,000 first class runs and knows the tricks of the trade. And, the player will also feel comfortable and look up to him for the solution. Players will think twice before doubting him. Moreover, Bapu can keep the Gen X grounded. Though from an earlier period, Bapu keeps tab of modern game and techniques. Above all, he hasn't packed off the basics of the game and thrives for perfection every day. Jadeja has shared dressing room with Sunil Gavaskar during Duleep Trophy match and has been impressed with his approach to the game, which he brings into his coaching tactics on regular basis.
The 51-year-old can prove to be a big asset during crisis. He displayed his ability to stay cool during the inter-district final at Motera on Saturday. Jadeja, without losing his temper, made his boys understand their mistakes in minimal words. A distant relative of Ranjitsinhji, Bapu has cricket in his blood and commands lot of respect. At the same time he has a good pair of ears for all those who are willing to learn the game. Not surprisingly, Chesteshwar Pujara and Ravindra Jadeja are in touch with the Ahmedabad-based banker, who willingly shares his experience to improve their game. Over to cricket and cricketers!