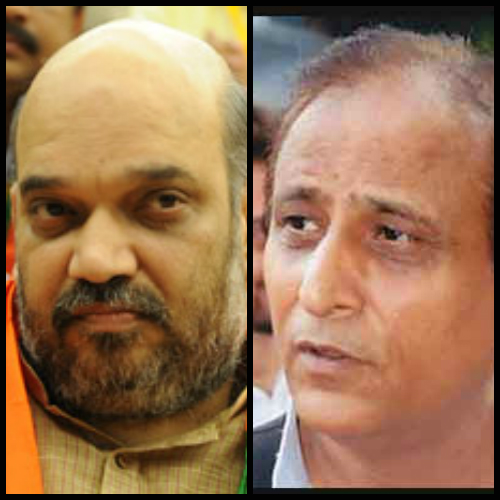 In Ankho Dekhi, the recently released film by Rajat Kapoor, Sanjay Mishra's self-discovery ends when he jumps off a cliff in order to experience his childhood dream of flying in the air. It is a bit of a symbolic end, which shows if one wants something badly enough, he can do whatever it takes to achieve it. India's current political scenario seems similar. The striking difference, though, is that Sanjay Mishra risks his own life while our Netas play with the electorate. To come out with flying colors on 16th May, our politicians seem willing to polarize the already polarized country even further, notwithstanding the chilling consequences.
Amit Shah set the ball rolling when he said, while campaigning in Shamli, one of the areas worst hit in the Muzaffarnagar riots, "In Uttar Pradesh, especially western Uttar Pradesh, this election is one of honor. It is an opportunity to take revenge and to teach a lesson to people who have committed injustice." If that was not enough, Samajwadi Party's
Azam Khan
decided to stoop even lower. "Those who fought for victory in Kargil were not Hindu soldiers; in fact the ones who fought for our victory were Muslim soldiers. Recruit us in the Indian Army. No one can guard the borders of our nation better than us", he said.
However, these instances should not be looked at in isolation. Politics in India has always been played on communal lines. And our two most established parties are guilty of keeping the two kinds of fundamentalism alive and kicking. When Rajiv Gandhi used, or misused, his overwhelming majority to overturn the Shah Bano judgment, he appeased Muslim fundamentalists. On the other hand, BJP's RSS has made sure that the Hindu Nationalism pops up every now and then. Rajiv Gandhi's decision proved to be a catalyst in opening the lock of Ram Mandir and LK Advani capitalized on that perturbed scenario. His divisive Rath Yatra was the last nail in the coffin and India, even after more than two decades, has not succeeded in reconciling the two communities. In fact, the tension has only gone north with the birth of votebank politics.
The political parties thrive on the Hindu-Muslim conflict, resulting in the political game played on communal lines with the burqa of development, education, empowerment, and so on. BJP, in their manifesto, talk about building a Ram Mandir on one hand and inclusive growth on the other. They envisage India with a Uniform Civil Code yet talk about the persecution of Hindus during riots, instead of batting for the persecuted irrespective of religion. Narendra Modi does not even utter a word about religion in his speeches while his dummy, Amit Shah, talks about revenge in riot-hit areas.
Congress
claims to be a secular party and accuses BJP of communalism, but Sonia Gandhi appeals to Muslims to vote strategically against BJP. Such incoherence has become as widespread as corruption.
Therefore, the diabolical strategies have always been at the core. They merely come up to the surface with its ugly face during such high-voltage elections through the likes of
Amit Shah
and Azam Khan. The truth remains that
communal politics
is persistently churning underneath the surface and the breed of Amit Shah, Akbaruddin Owaisi, Praveen Togadia, Bal Thackeray and Azam Khan to name a few is a product of that brand of politics.
The most frightening aspect of it, though, is that no party has cared to deplore the comments made by their respective representatives. In fact, BJP has promptly claimed that the content of Amit Shah's speech has been doctored. As if he is known for his Gandhian thoughts. It is obligatory for every party to denounce such comments and the absence of it is a dangerous augury.
It is now down to the Election Commission to take strong action and set an example by holding the spokesperson as well as his party accountable, whenever the communal voices pollute the air.