The party will also launch a 'jhadu yatra' in the city today.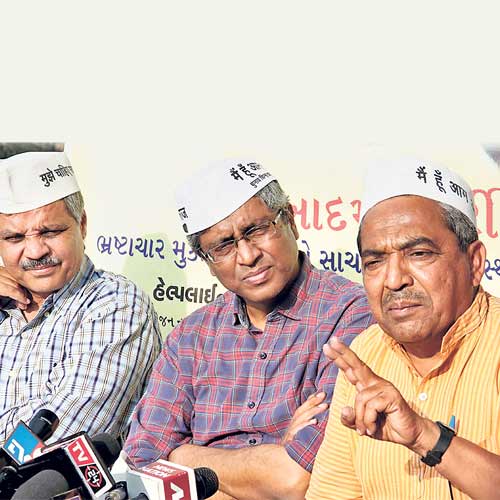 Aam Admi Party (AAP) is ready to take on BJP's prime ministerial candidate Narendra Modi in the upcoming election. AAP has decided to field the strongest possible candidate against Modi to prevent his entry to the Lok Sabha.
AAP leader Ashutosh Gupta said the Gujarat model was nothing but fooling people in the name of development as people have been denied basic amenities like roads, drainage, water, sanitation, healthcare and education even in Ahmedabad. Meanwhile, AAP's Jhadu Yatra will begin in Ahmedabad on Republic Day.
AAP is looking forward to replicating its Delhi Assembly election success story in the Lok Sabha election in Gujarat, Delhi, UP, Rajasthan, Maharashtra and Madhya Pradesh.
"Though we are yet to chalk out a strategy for the Lok Sabha election, we promise to field the strongest candidate possible against Modi to prevent his entry into the Lok Sabha," said Dinesh Vaghela, executive committee member of AAP in the state, adding that the party was getting a great response from Patan to Palanpur in North Gujarat.
AAP national leader Ashutosh Gupta described the controversy revolving around Delhi law minister Somnath Bharti as mere propaganda to protest big names involved in drug and sex racket. He, however, denied divulging the names, saying he did not have enough proof for the same.
"Bharti went there only after receiving complaints from the residents. We have released a four-hour video footage of the incident where the police were also present. If Bharti is found guilty in the inquiry being conducted by the Lieutenant Governor, he will be shown the door," said Gupta.
Talking about his visit to Gujarat, he said he wanted to check the reality of the growth model being discussed in Delhi for a long period. "People do not have access to roads, water, drainage, education and healthcare facilities in Ahmedabad. If this is Gujarat model, then we certainly do not want it replicated elsewhere in the country," asserted Gupta.
He also said that it would be really unfortunate if a handful of industrialists want a particular person to be the country's prime minister. "It is my strong belief that it will not happen in a democratic set-up," said Gupta.
He will flag off the Jhadu Yatra after taking the blessings of founder of Mahagujarat Indu Chaha on Sunday and then join the yatra in Junagadh and then Rajkot.
The Jhadu Yatra will end at Mahatma Mandir on January 30, the death anniversary of Gandhi. "Gandhi was murdered once. But his ideology is being murdered at Mahatma Mandir every day," said AAP convener Sukhdev Patel.