Many differently abled and terminally sick voters exercised their right to vote in the city on Wednesday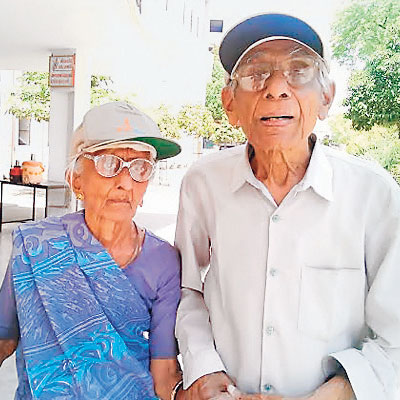 Apart from the first-timers who were the target group of the political parties, there was another group who was just as vital but largely overseen.
Many senior citizens above the age of 80 and differently abled people exercised their franchise in large numbers. It was an encouraging sight to observe people suffering from cancer and being bed-ridden casting their vote.
Devsinh Rabari, 58, paraplegic and an inspiration to 15 other physically challenged people confined to a wheel-chair, said: "Though we don't have legs to walk and run, we want the country to run through our votes. These people have huge expectations that the new government will do something for their livelihood." He cast his vote at Viratnagar polling booth.
Similarly, Harishbhai Bhatt, 72, was brought on a wheel-chair by his family members. He suffered a brain hemorrhage and was recently operated upon. His family members said that though he cannot speak properly, he conveyed to his family members that he wanted to cast his vote.
Defying transportation odds, a couple Kusumben and Jitendrabhai Dekhtawala voted. The 85-year-old couple could not reach their polling booths as Kusumben suffered from a back problem. They eventually hitched a ride with their neighbour.
Liyaqat Ghulam Patel, 25, was recently diagnosed with a cancerous tumour. He had undergone surgery as well as chemotherapy in the past few months. The treatment had rendered him home-bound for nearly two months. However, on the D-day, he decided to cast his vote. Locals arranged transport facilities for him and he was aided by a relative.
Despite his best efforts, he was unable to move on his own. His well-wishers even requested the booth officials to let him be driven, as close as possible, to the booth.
Chandubhai Bhati, 57, a resident of Ranip, voted and got inked on his foot instead, due to his disability. He confidently said: "So what, if I don't have hands, my enthusiasm to vote is enough. Also, I feel lucky to vote and help the country in choosing the right government."