LK Advani to flag off the event in city.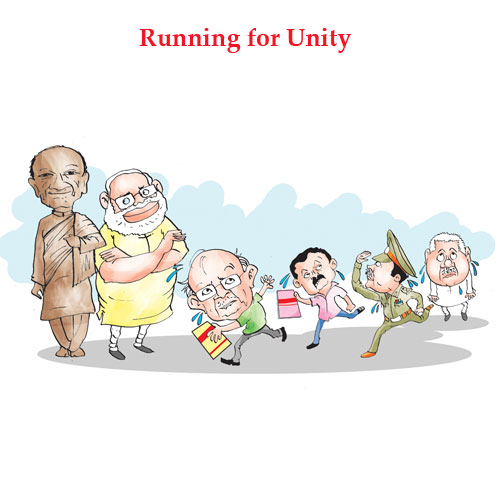 Over 2 lakh Amdavadis will take part in the Run for Unity, of which 80,000 are students of various colleges affiliated to Gujarat University, said Ahmedabad mayor Meenaxi Patel.
The run will take place from Vallabh Sadan to Sabarmati Riverfront around 7 am. It will be flagged off by BJP leader LK Advani. Chief minister Narendra Modi will flag off the run in Vadodara, where more than 1.85 lakh people have registered.
The entire ruling party has been roped in to make the run a success. Party president Rajnath Singh will lead the event in Uttarakhand, Sushma Swaraj in Madhya Pradesh, Arun Jaitley in Delhi, Venkaiah Naidu in Mumbai and Nitin Gadkari in Nagpur. A host of sportspersons, film personalities and businesspersons will also take part in the event.
"It will be a record-setting event in the presence of representatives from the Guinness Book of Records," said Olympic medal winning shooter and BJP leader Rajyavardhan Singh Rathore in Jaipur.
Delegations, headed by state ministers and comprising politicians and senior bureaucrats, had fanned out across the country in the last couple of weeks to promote collection of iron for the Rs2,000-crore Statue of Unity project and the run.
Meanwhile, the Congress has protested against forcing students and teachers of the Ahmedabad Municipal School Board to take part in the event.
Run for Unity a drama by Modi: GPP
Gujarat Parivartan Party (GPP) has come down heavily on the Run for Unity event planned by Gujarat government. "On the direction of Gandhiji, Sardar Patel had let go of his right to become prime minister of the country while Narendra Modi is planning this run to become the prime minister. To show higher presence in the event, the state government is forcing school authorities to get their students registered. Unlike the simple Sardar, Modi likes to fly and live like a king. This is just a drama," said GPP general secretary Gordhan Zadaphia in a press statement.