April 23 is the death anniversary of William Shakespeare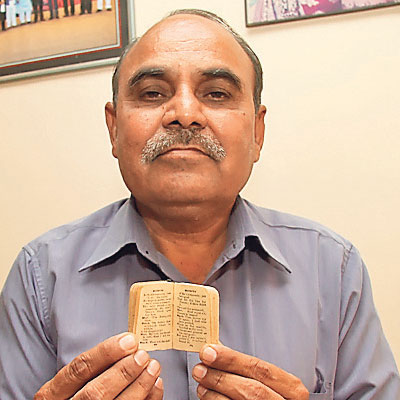 A retired primary teacher, Ratilal Mandali, has the world's smallest copy of the play 'Macbeth' written by William Shakespeare. The book caught his eye at Gujari Bazaar in 1975. The length of the 315-page book is 3 cm and the breadth 5 cm with a thickness of 1.5 cm. Printed in 1626 by Alide Publication, London, he claims that nobody has this sort of a book in the world.
It may be noted that April 23 is the death anniversary of William Shakespeare.
He claimed it was his love for unusual objects that prompted him to acquire it. Apparently in those days, the book cost him Rs50. However, as he didn't have the money he borrowed the required amount to buy it.
This 388-year-old book has helped him win a place in Limca Book of Records in 2010 and India Book of Records in 2011.
He said: "I never realised the value of this book at that time as I am not so well-versed with English. Moreover, I was not fond of reading books. Later, I read the book and felt that I had acquired something rare."
After realising the value of the book, he takes utmost care in maintaining the relic. He first wraps the book in plastic polythene and then stores in a wooden box to keep out moisture. "I preserve this book as gold. It means a lot to me," he adds.
He then said: "When I read the book, I was impressed by the writer. It makes me feel proud that I possess a unique book of the writer on whose name UNESCO decided to celebrate the World Book Day."
He, however, expressed his anguish by saying, "People are really not bothered to take care of the books which can be a treasure for the lifetime. Finding this book from Gujari bazaar speaks how we value the great books." He ended by saying that he had tremendous respect for Mahatma Gandhi and William Shakespeare.