Though the AMC has cleared over 890 trees, the department is still struggling to clear several uprooted trees from various parts of the city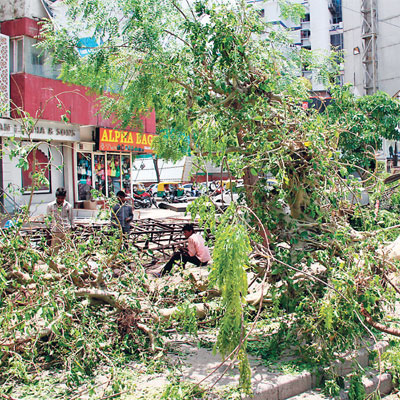 The impact of the sudden storm and rain which struck the city and different parts of the state on Sunday can be felt even after three days. Many uprooted trees are still seen on roadsides in several parts of the city.
Out of a total 1,165 tree that fell, 898 have been cleared. However, there are still 267 such trees, which are yet to be cleared by the Ahmedabad Municipal Corporation (AMC).
For removing or cutting these trees, Ahmedabad Fire and Emergency Services (AFES) and the AMC's garden department are working overtime.
The maximum, 486 trees, were uprooted in the new west zone followed by west zone with 194 tree-falls. Similarly, in central zone 180 trees fell, 95 in east zone, 88 in north and 122 in south zone.
Speaking to dna about the ongoing work, chief fire officer of AFES, MF Dastur said: "We've been operating with 18 units and have cleared over 300 fallen trees. While we cleared 240 tree-falls on Monday, 30 were cleared on Tuesday and 16 on Wednesday." When questioned on the reasons for slow pace of clearing work, Dastur explained that it depends on the size of the tree and also the habitation should not be hampered. Interestingly, AFES took 15 hours (almost a day) to remove a fallen tree in Dariapur, as it was too huge.
He also explained that the cases have been taken on a priority basis and now those trees fallen in the interiors will be taken up. "While the main throughfares have been cleared, the work of removing them from interior areas will be taken up now," added Dastur.
An official, requesting anonymity, said: "The work is going on in different areas and sometimes it becomes difficult to remove a huge fallen tree. However, we are functioning with 63 teams of our department operating on 15 JCBs and 35 dumper vehicles to cut these fallen trees. The work will be over soon."