But landlords have been holding on to rentals, says report by global cosultancy firm Cushman & Wakefield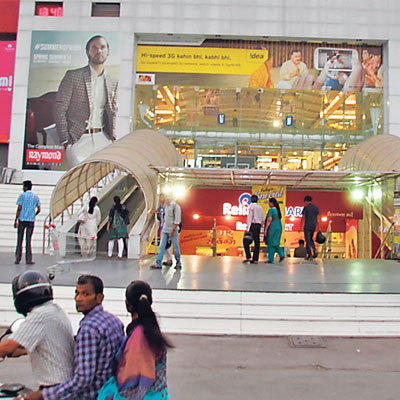 Mall space vacancy is increasing by the day in Ahmedabad. According to the latest report from global consultancy Cushman & Wakefield, the trend of increasing vacancy levels has resulted in a rise of mall vacancies to over 31% of the total mall space in the city.
There has been a marginal slowdown in development activities across the main cities, said Sanjay Dutt, executive managing director of South Asia Cushman & Wakefield, India.
Among India's top eight cities, only Ahmedabad and Pune have witnessed a rise in vacancy levels of 1.3 and 1 percentage points, respectively, said the report.
"Developers are cautious about new locations. So, no new project is being announced without conducting a thorough study of the location. With retail FDI in place, developers are expecting a demand from foreign brands to start pointing northwards, which puts added pressure on them to create a conducive shopping environment," said Dutt.
According to the report, increasing vacancy levels were observed at a few malls along SG Highway as some brands were relocated. "The trend resulted in mall vacancies increasing by 1.3 percentage points to 31.6% at the end of the first quarter," said the report.
But, rentals have not seen any correction yet. "Despite increasing vacancies, landlords have been told to hold on to the rentals. The mall rentals remained stable across all sub-markets during the first quarter.
Rentals on SG Highway are expected to remain under pressure due to high vacancy levels. Rentals at locations like Prahladnagar and SG Highway could appreciate due to healthy demand expected from the BFSI and F&B retailers," said the report.
Five years ago, there were very few organised retail players with a huge market share and now, the same business is divided among several organised retail players, said Rakesh Bhavsar, management consultant. "Earlier, customers from different parts of the city used to come to the limited organised retail players. Now, retail players have expanded their presence. And, on impact, people have stopped going too far and prefer visiting nearby malls," he added.