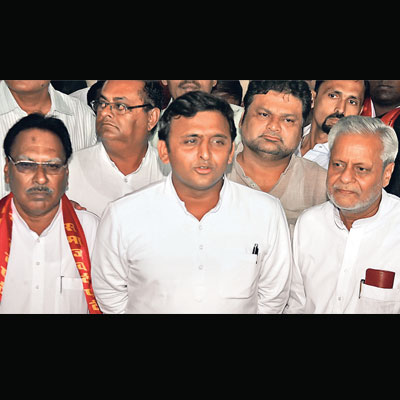 With an eye on enticing voters with the existence of a third alternative in the majorly bipartisan Gujarat, Uttar Pradesh chief minister Akhilesh Yadav visited the state on Monday. After a morning address in Patan, he landed in the city where he accused Gujarat's Bharatiya Janata Party (BJP) government of having created an illusion in the name of development.
The former three-time MP, whose Samajwadi Party's candidates are contesting 11 of the 26 Lok Sabha seats in the state, claimed that a Third Front is the only way for a truly secular central government. It should be noted that the SP had polled 0.45% of the total votes in the state with a similar number of candidates in the 2009 Lok Sabha election.
"Apart from Uttar Pradesh, we are contesting from Gujarat, Madhya Pradesh, Bihar, Karnataka and Jharkhand. We have selected the states to contest from based on the confidence of the respective state committees of our party," said Yadav upon landing at the SVPI airport here on a hot Monday afternoon.
During his first campaign-related visit to the state, he said he remembered visiting earlier for a garba event during Navratri in the past. Immediately though, Yadav minced no words in his onslaught at the BJP and its prime ministerial nominee and Gujarat chief minister Narendra Modi.
"He (Modi) keeps visiting our UP. In our culture, if a guest visits, he would feel bad if the host does not return the favour," he quipped, and also added, "SP will not let BJP make inroads in UP. BJP leaders are bahut chalu (very wicked). They use false politicking and PR agencies to project a fictitious secular image".
Replying to Modi's comment of him being afraid of the lions Gujarat gave to UP, Yadav said, "We have a allocated a 300-acre land, where all the 'lions' from Gujarat can stay. If Modi is so worried about them, why hasn't he bothered to visit these lions even once during his multiple visits to UP?"
Yadav went to say that the only way to have a truly secular government at the Centre was by electing a Third Front. "This new alternative is making its presence felt across the country. Even in Gujarat, SP hopes to open its account if the voters will so," he said.