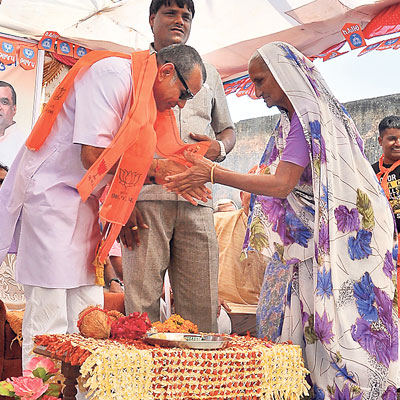 Actor-turned-politician Paresh Rawal launched his official campaign for Ahmedabad East Lok Sabha constituency on Monday. Unlike his previous visit, after the announcement of his name as the Bharatiya Janata Party (BJP) candidate, he was seen on Monday meeting people without bouncers and bodyguards. This time around he was seen with party workers and local leaders surrounding him.
However, heavy police security cover was provided to the leader. On all his travel routes police were controlling the crowd and traffic.
Another important aspect in the campaigning of Rawal was that sitting MP Harin Pathak was not seen anywhere. The actor was given ticket to contest from Ahmedabad East after the party leadership decided not to field seven-time MP Pathak from here. In his first visit Rawal had termed Pathak as his elder brother. It is believed that Pathak and his staunch supporters are not happy with the party's decision of fielding Paresh Rawal. In his previous visit, people felt distanced with Rawal as bouncers kept most supporters and party workers at bay. In the second round, he campaigned at three villages on the outskirts of Ahmedabad that included Por and Adalaj. In the evening he had a small public meeting in Chandkheda. In his usual style, rather than pitching for himself to the crowd, Rawal requested people to support development, Modi and philosophy of Narendra Modi while going to vote.
"I am here to support Narendra Modi as he is going to fulfil the unfulfilled dream of Sardar Patel. He is going to be the first prime minister from Gujarat," he said while addressing a small gathering at Uvarsad near Gandhinagar. He added that just three years after the assassination of Rajiv Gandhi Bharat Ratna was awarded to him while it took 30 years to do the same for Sardar.
Rawal also attacked the Congress-led UPA government during his campaigning. "The government at the Centre is very weak. When neighbouring countries are frequently attacking our soldiers, beheading them the government remained silent. Now they are talking about cutting Modi into pieces," he said.