At 17.60 C,minimum temperature in city was six degrees above normal.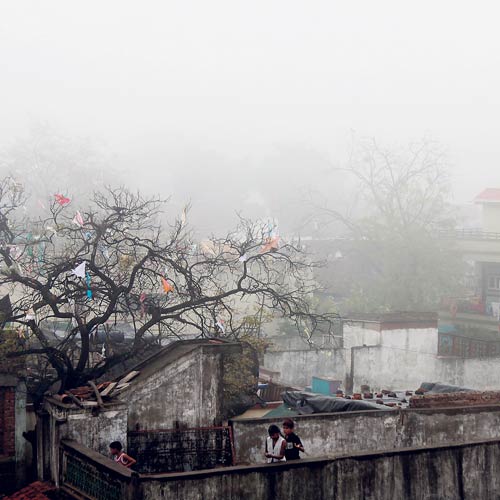 Courtesy another foggy day on Wednesday, the winter in Ahmedabad continued to hog all the limelight for the third consecutive day. Unlike Delhi, Amdavadis rarely get to discuss visibility issues during the winter. But Wednesday morning was different as the city dwellers had to battle fog that reduced visibility considerably on the road.
The city that saw downpour briefly on Tuesday night, also witnessed rain early on Wednesday morning. But surprisingly, at 17.6 degree Celsius, the minimum temperature remained six degree above normal.
For rain-harried Amdavadis, the Met department has some good news. Thursday will see no rain, but the city will continue to enjoy a cloudy if not foggy weather. It should be noted that the city recorded 2.8 mm of rainfall in the last 24 hours.
"This is unexpected, but suddenly Ahmedabad looks so beautiful. It is as if you are at a hill station.
It reminds me of my native place in Dehradun. Of all the years I have spent in this city I don't remember having experienced such weather before," said Rita Singh, a resident of Vejalpur.
"My son took ill and the doctors said it is because of weather. But I would still like the weather to continue, it is so much better this way," said Natasha Sanon, a housewife.
Besides Ahmedabad, 12 districts of the state witnessed rain in the last 24 hours. The highest was recorded by Vadodara at 35 mm. It was followed by Navsari (11 mm) and Surat (10mm).
Valsad, Tapi and Dangs recorded 5mm, 3 mm and 8 mm of rain respectively.
Despite the rain, almost all the districts recorded a minimum temperature above 15 degree Celsius. Light to moderate rain or thundershowers are expected at isolated places in all districts of South Gujarat, while rest of the state is expected to remain sunny.
Several flights diverted, many delayed
The early morning fog played havoc with the flight schedule at the city airport. Almost all the city-bound morning flights had to be diverted due to poor visibility. Among these, two were of Air India, one from Mumbai and another from Delhi. While the flight originating from Mumbai was forced to return to its destination, the other from Delhi was diverted to Jaipur. Besides these, flights from Chennai and Bangalore were diverted to Jaipur and Vadodara respectively. The four flights later reached the city after 11 am. Meanwhile, almost all the planes from the city for various destinations were delayed by two hours.