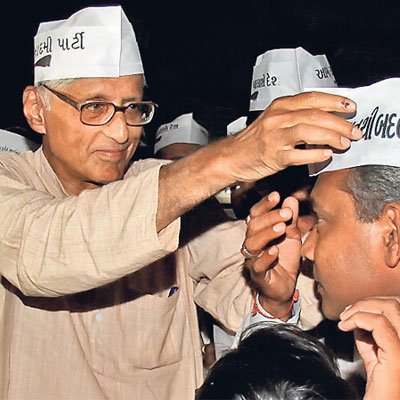 Rain and dusty winds forced Aam Aadmi Party (AAP) star campaigner and Mahatma Gandhi's grandson Rajmohan Gandhi to call off his padayatra soon after it began around 6 on Sunday evening.
Gandhi, who began his padayatra from the Uttamnagar vegetable market in Thakkarnagar, met people introducing himself. He also offered the AAP cap to people. Talking to media about the attack on him and Kanubhai Kalsariya, party candidate from Bhavnagar, Gandhi said it showed the desperation of the Congress and the BJP.
"They are afraid of the winds of change blowing in the country and this attack is a reflection of the same," said Gandhi. "We will respond to the attacks through votes not violence," said Gandhi.
He said both the parties were hand-in-glove as none of them bothered to talk about corruption.
Gandhi also rued the fact that in Gandhi's Gujarat political parties were using violence to silence others. "They can perpetrate violence because they have the might of money behind them. But it will not affect us. We are determined to fight for a corruption free India," said Gandhi.
Surebji, a priest who was offered the AAP's cap, said he had heard of the party but through Kejriwal. "I don't know who the local candidate is although I know of the party and Kejriwal," said Surebji. Another woman selling vegetables said she had not heard of the party. "I don't live here hence I don't know about them," she said.