Despite some of them meeting the target a year ago, several MLAs, corporators & junior leaders in the state are still busy raising funds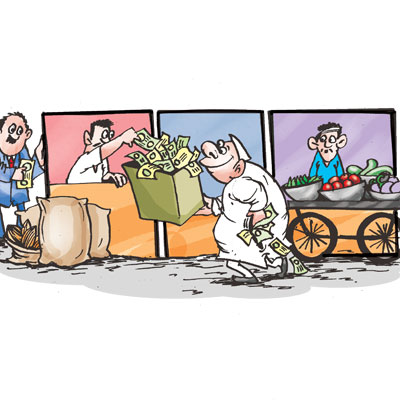 The buzz in the market these days is not just who will win the elections, but how much can political parties raise to spend in the last 10 days before people cast their vote.
Leaders and workers of front-runner Bharatiya Janata Party (BJP) are in a spot these days as they are forced to raise funds from small business houses in the state. Reliable sources, however, confide that the BJP completed fund raising from big corporate houses a year ago.
"Through a special mechanism, a known senior leader of BJP completed the fundraising process worth thousands of crores from Gujarat-headquartered corporate companies before monsoon last year. There are several companies which are doing business with the state government. Through projects or events or other means, party gathered funds from Gujarat. Now, fund raising will happen at candidate, MLA or corporator level," said a corporate honcho, who regularly supported the saffron party.
Despite meeting the target a year ago, MLAs, corporators and junior BJP leaders in the state are still seeking funds. "Much of the funds raised earlier did not trickle down to party workers as it was spent in roping in leaders from other parties or allies and to boost the party's national image. This was not seen during the 2009 Lok Sabha election. They are raising funds from local markets in the range of Rs5,000 to multiples of lakhs," said a professional.
Amusingly, 80% of the people are talking about funding only to the BJP. Depending on the position and turnover of the companies, BJP collected money from them for the Lok Sabha election campaign. "The mechanism is very different. So, it is difficult to even guess how much money is raised from the corporates," he informed.
"In Gujarat, we know that funding Congress is not going to benefit us. And, we have heard that the party is going to fund the candidates for expenses. However, people from the Congress have also asked for finance. Depending on the individual and relationship with the Congress worker, companies either fund or even sometimes ignore their demands," said an entrepreneur, who has recently funded a dinner for masses on behalf of one of the BJP politicians.
It's estimated that Lok Sabha candidates of political parties have or will raise anything between Rs3 crore and Rs7 crore, informed an industrialist.
"The spending in urban seats is very less while it is on the higher side in rural areas. In Gujarat, in certain urban constituencies, the expenditure is less than Rs1 crore. But candidates still manage to collect over Rs4 crore to Rs5 crore. In rural areas, most of the money is spent on buying votes. That culture still exists there," said a professional who is helping the BJP.