Second Joint Asian Conference will focus on inclusion of visually impaired and deaf in educational sphere.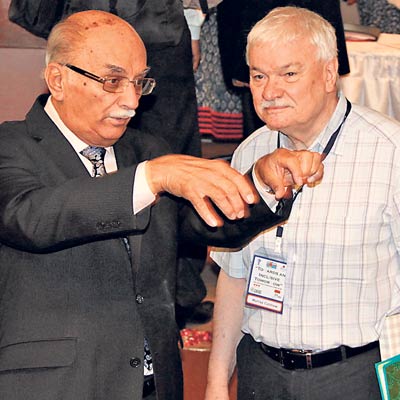 The inclusion of blind as well as deaf children in education remains far from a reality, and education for the disabled should be included in national initiatives, opine experts. These and other views on the subject of inclusion of disabled children were shared at the 2nd Joint Asian Conference titled 'Towards an Inclusive Tomorrow', organised by ICEVI and DBL and hosted by Blind People's Association (BPA), India and Sense International (SI), India at AMA on Friday.
SI chairman Murray Culshaw, in his welcome address, stated, "Why not modify the title to 'towards an inclusive today'?" Eminent speakers, delegates, interpreters from across the world will participate in the conference that ends on April 7.
In her inaugural speech, secretary of the union ministry of social justice and empowerment, Stuti Kacker, said, "Inclusiveness for visually-impaired can be related to women's inclusion over the years, with the former being more difficult to achieve. It is a good platform to exchange and learn from diverse perspectives."
According to ICEVI CEO, MNG Mani, "Of the 70 million children who do not go to schools across the world, one-third have disabilities. No more than 5% of the total visually-impaired children are covered under educational programmes."
"Education for all, including children with visual impairment is far from a reality. Education for the disabled should be included in the national initiatives," Mani added.
Speaking about technology as an effective tool to help with this issue, president on RNIB UK, Kevin Carey said, "We need to understand the importance of digital tools. Talking mobile phones are a boon for blind people and open up the arenas of global broadcasting and Internet for them."
The vitality of parent-child bonding was highlighted in the speech by Dr Jan Van Dijk, an expert from USA. "A visually-impaired child's major teaching is not limited to Braille but beyond that; we call this 'Five smiles a day'. Emotional understanding and parent-child bonding is important for inclusive education."
Also witnessed on the first day were personal accounts and life experiences shared by deaf and blind students, followed by workshops on enhancing literacy for inclusion, role of a family and inclusive education practices in Asia.