My last day of reporting on PM-elect Narendra Modi laying down office as chief minister five days ahead of his elevation to the top post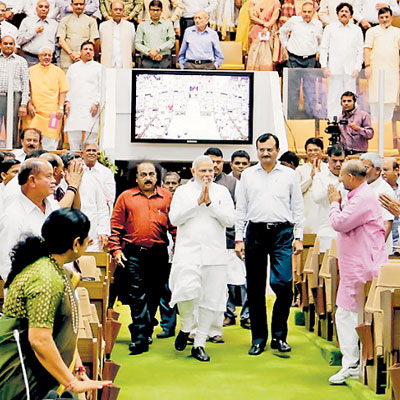 To begin with — there was something different about Wednesday. The state assembly was meeting for a special session to congratulate chief minister Narendra Modi, who is poised to become the prime minister.
While there have been other chief ministers, who have gone on to become prime minister, Modi created another record by being the only one moving straight from the CM's office to that of the prime minister's.
The legislative assembly also felt different. Not just because it was decked with a variety of flowers, but also because of the general feel-good factor. As Modi walked into the House as the state's chief minister for the last time, MLAs cutting across party lines thumped their desks to welcome him. BJP MLAs also chanted slogans such as "Bharat Mata Ki Jai".
Also, instead of going to his seat, as he usually does, Modi walked straight to friend-turned-foe Shankarsinh Vaghela and hugged him. Given the ideological and political differences of the two sides, the gesture helped to ease tension and ensure a thumping farewell for Modi.
While there was a reference to the 2002 riots by Vaghela himself and senior Congress MLA Mohansinh Rathwa spoke of how Valyo had redeemed himself to become Valmiki, the author of Ramayana, the House stuck to the agenda of the session. That is to extend best wishes to Gujarat's son who is set to become the prime minister.
It was a rare occasion as the state's top corporate representatives, including Sudhir Mehta of Torrent, Pankaj Patel of Zydus Cadila, Parimal Nathwani of Reliance, Sanjay Lalbhai of Arvind, Tulsi Tanti of Suzlon, among several others, were in attendance at the assembly to witness the proceedings.
However, more than the ambience of the place or the people, it was the conduct of MLAs that was most refreshing. For once, the MLAs agreed not to differ and there were no allegations and counter-allegations levelled against one another. There was no slandering. There was no taking sides with or against another. How good would it be if this behaviour had been the norm rather than the exception. Gujarat would truly be a model state if that happens.
On a personal note, throughout my career as a reporter and as a state government correspondent over the past few years, the name Narendra Modi automatically followed the words chief minister. Wednesday also marks the day when this changed.