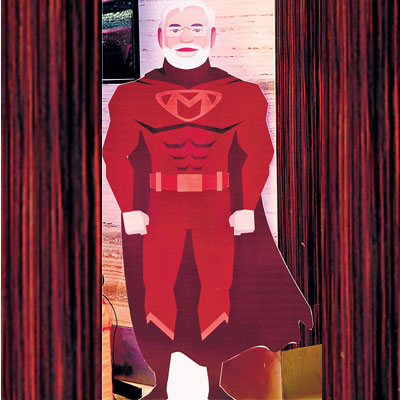 Chief minister and Bharatiya Janata Party's prime ministerial candidate Narendra Modi will soon be seen in the role of a superhero. A group of Modi fans have come together and made an animation movie in which Modi is featured as a superhero.
The movie, which is claimed to have been prepared by a group of first time voters, shows Modi as being the superhero with magical powers. In one of the scenes, a child is shown sitting with his books in darkness.
In the next frame, Modi reaches the village, and lights it up. In another scene, farmers are shown working in the fields eagerly waiting for the monsoon. Modi reaches to their rescue, and in a flash, appear canals carrying water to the fields.
The movie, as well as a coffee table book and a hand-crafted pen drive were also released on the occasion by Gujarat Gaurav Fan Club that claims to be a non-political and non-commercial organisation. Some 112 books on Modi or authored by him, were also put on display at the event.
"We have prepared 10,000 coffee table books and 5,000 pen drives, which we will distribute among our members to promote Narendrabhai Modi," Narendra Somani, chairman of the fan club, told media-persons.