Anandi takes charge with 20 ministers; tainted minister Purushottam Solanki among 3 ministers dropped; Four BJP CMs grace swearing-in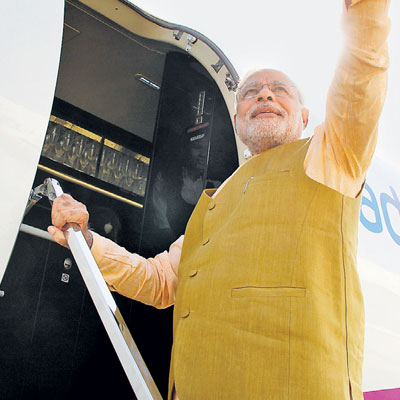 Marking the beginning of a new era of politics in Gujarat, Anandi Patel took oath of office as chief minister at a ceremony at Mahatma Mandir in Gandhinagar on Thursday afternoon. In an assertive bid to set the house in order before he left the state for his much-awaited national role, PM-designate Narendra Modi presided over the ceremony in what was perhaps his last public function in Gujarat before he left for Delhi on Thursday evening.
The ceremony attended by the who's who of BJP bigwigs from across the country, however, paled a tad in comparison to the earlier grand swearing-in ceremonies held for Narendra Modi in 2007 and 2012 where the new CM delivered a speech to outline his vision for the days ahead.
Twenty other ministers, six of cabinet rank and 14 ministers of state, also took oath of office along with the new CM. Modi headed a 23-member ministry in which he handled nine portfolios himself when he stepped down on Wednesday. The oath-taking took place in front of a packed auditorium, mainly enthusiastic BJP workers from the ministers' constituencies.
Three ministers of state in the Narendra Modi cabinet — Purushottam Solanki, Parbat Patel and Vasan Ahir — were dropped from the ministry by the new chief minister, Anandi Patel.
Solanki, an influential Koli community leader, is an accused in the multi-crore rupee fisheries scam. Sources said Narendra Modi told Solanki last night that he would be inducted in the cabinet once his name is cleared of all charges.
In case of the other two ministers, they were dropped in favour of other MLAs from the districts they belong to. Patel, who hails from Banaskantha district, was dropped and Shankar Chaudhary, who, too, is from Banaskantha, was given a place in the cabinet. Similarly, Vasan Ahir was dropped and Tarachand Chheda, also from Kutch, was included.
National BJP president Rajnath Singh, Goa chief minister Manohar Parrikar, Rajasthan's Vasundhara Raje Scindia, Madhya Pradesh's Shivraj Singh Chouhan and Chhattisgarh's Raman Singh were present. LK Advani, Murli Manohar Joshi, Sushma Swaraj, Venkaiah Naidu, Nitin Gadkari and Subramanian Swamy, along with Punjab CM Parkash Singh Badal of Shiromani Akali Dal, an NDA ally, were also seen on the stage. To add a gist of glamour, Bollywood actor Vivek Oberoi was also seen on the stage. Conspicuous by their absence though were Gujarat's Rajya Sabha MPs Arun Jaitley and Smriti Irani.
Interestingly, the huge stage in the main hall of Mahatma Mandir beside an independent stage for Gujarat's ministers, served as the perfect public networking platform for the BJP biggies after their electoral victory. None of the leaders delivered a speech at the ceremony. The high point of the event was when Modi proverbially 'walked across the aisle'. In a masterstroke statement of sorts, he came down the stage to bring estranged leader and former chief minister of Gujarat Keshubhai Patel on the stage and got the patriarch to sit beside him through the ceremony. It was also a momentous reunion for Advani and Keshubhai who briefly hugged each other on the stage.