AAP is also expected to gain something from the anti-SIR movement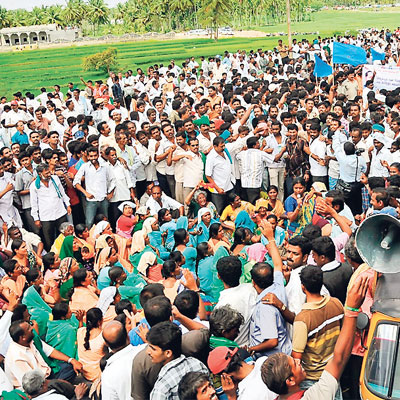 Activists behind the successful Mandal-Becharaji Special Investment Region (MBSIR) protest parted company and joined various political parties just before the Lok Sabha election. But, no single party is likely to gain much from the ongoing polls. Only the Congress may have a slight edge followed by the Aam Aadmi Party (AAP).
The movement against MBSIR was guided by veteran Congress leader Sanat Mehta, Kanubhai Kalsaria, Lalji Desai, Jethabhai Patel, Tejashri Patel and others. Of them, Kalsaria and Desai were not associated with any party during the anti-SIR stir. However, just before the Lok Sabha polls, Kalsaria joined AAP and Desai Congress.
Though there is no clear message from the villagers about the political leanings, it is believed that the Congress is poised for a slight gain because of Desai and Patel.
Desai, who had spearheaded the anti-MBSIR movement, joined the Congress as general secretary of the Gujarat Pradesh Congress Committee just before the polls. Moreover, not only did the Congress MLA of Viramgam, Tejashri Patel, support the movement, but he also raised questions in the assembly. "This is why the Congress may enjoy a little edge over the other parties in 26 villages," said Raju Sharma, a resident of Rampura village.
A local Congress leader was also optimistic about getting support from the locals due to the movement. He added that both Patel and Desai had addressed a number of public meetings in the area. "People did complain that local Congress MP Somabhai Patel had not supported the movement. However, they were pacified with the assurance that the local MP would stand by them in future."
The leader even claimed that some votes may go to AAP candidate Jetha Patel due to the vigorous campaigning by the party in the area.
Others, however, claimed that neither of the parties would succeed in extracting political mileage from the movement. For instance, at some villages, as the government's decision to cancel the SIR has gone down well with the farmers, they are with the BJP, said Mahesh Patel, a resident of Kunpur, one of the 26 villages included in the MBSIR.