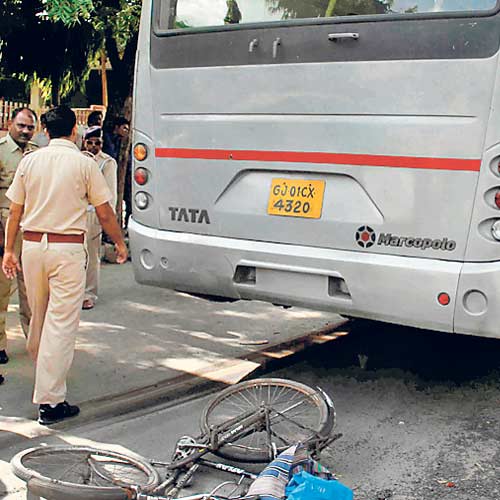 A 42-year-old man was crushed to death under a speeding BRTS bus while he was trying to cross the track on his bicycle on Tuesday morning. He was on his way to work.
Police said that he died on the spot.
According to a complaint filed by Trupti Panchal, resident of Geeta Apartment in Ranip, with Naranpura police, her brother-in-law Bharat Panchal was riding his cycle to cross the BRTS corridor opposite Suryanarayan Society in the area at 9 am on Tuesday.
Just then, the bus bearing registration number GJ1-CS-4320 rammed into him, crushing him under the front wheel. The police said that the driver of the bus escaped on foot after the accident.
When informed, Naranpura police rushed to the spot only to find the cyclist dead. They have registered a case of rash driving and causing death due to negligence against the yet-unidentified driver.