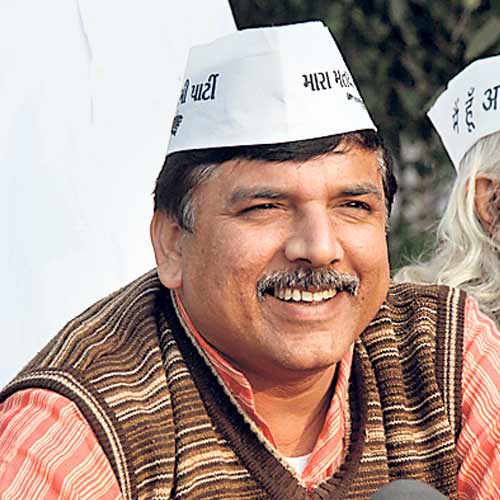 The Aam Aadmi Party (AAP) has so far received 33 nominations for the 26 constituencies in the state. It should be noted that the first phase of inviting nominations for the 26 Lok Sabha Seats came to a close on January 15 for the party. However, it was later extended to January 20.
Overall, the party has received 1,800 forms for 150 constituencies in the country, said Sanjay , national level spokesperson for the AAP who added that the party will soon begin screening of candidates. was here to hold a meeting of the state office bearers of the party. Speaking at a press conference held in the city, said that in Gujarat industries were favoured at the cost of the common man. "We will contest at all the seats in Gujarat. We will take up the issue of corruption, law and order, gauchar land and favouritism shown to industries as some of the issues," said .
On Mallika's criticism of Kumar Vishwas, refused to comment but on Vishwas, he said: "The comments that were allegedly anti-women and anti-minorities were taken from 20 year old videos of Kavi Sammelan and shown in such a way so as to make it look as biased," said . He said Vishwas had faced brutality of the state while protesting against the Delhi gang-rape. On the vigilante move of AAP MLAs Somnath Bharti and Rakhi Birla in Delhi, where they stormed the house of some Africans and asked the police to break down the door of a suspect in a dowry case, justified it.
"We are a party that will fight for the right of the common man. The police are reluctant to act against the Africans despite several complaints from the people in the area," said . He said contrary to popular belief, Bharti and Birla had both first approached the police, who dismissed their complaints. "If the police does not listen to the elected members of the common man do you think they will take the complaints of the common man seriously," said .
He further added that in Gujarat it was not BJP's rule but Modi-Raj. "This personality driven agenda is dangerous," he said. He added that Gujarat had so far seen five lakh members join the party following its success in Delhi. "Given the large number of people joining the party, it is indeed a challenge to organise them so as to effectively fight the elections," said.