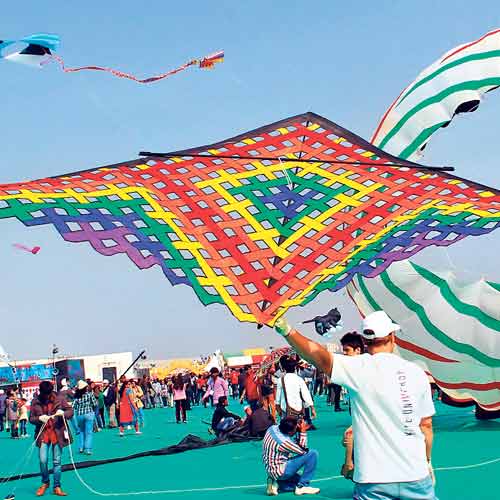 The three-day International Kite Festival commenced on the Sabarmati Riverfront here on Sunday in the presence of thousands of visitors, who witnessed the gala event.
According to the state tourism department, 147 professional kite-flyers from 27 countries and 11 states are taking part in the festival. These countries include Afghanistan, Ghana, Indonesia, China, Mozambique, Sri Lanka, France, Kenya, Malaysia, Japan, Mongolia, United Kingdom, etc.
Chief minister Narendra Modi, who was also the chief guest of the function, inaugurated the festival. In his speech, Modi took a dig at his critics and claimed that tourism and festivals gave economic empowerment to the poor.
The chief minister claimed that kite festivals in the state have helped thousands of poor families, who are into making and selling kites. "In 2001, kite related business in Gujarat was hardly between Rs 30 to 35 crore. Now, it has crossed Rs 500 crore," said Modi.
"Such festivals are necessary for the upliftment of poor. However, many people had criticised our initiative initially," said Modi, who came to the venue with tourism minister Saurabh Patel and revenue minister Anandiben Patel among other dignitaries. In his welcome speech, Saurabh Patel claimed that growth of tourism in Gujarat is at 14% whereas in India it is just 7%.
"More than 85,000 tourists visited the Rann Utsav this year and over 1,500 tourists enjoyed paragliding at Saputara," he said.
For three days citizens can also enjoy various cultural events. On January 14, all the participants and guests will be taken to the Poles in the walled city, where they will fly kites with the local residents and enjoy Uttarayan celebrations.