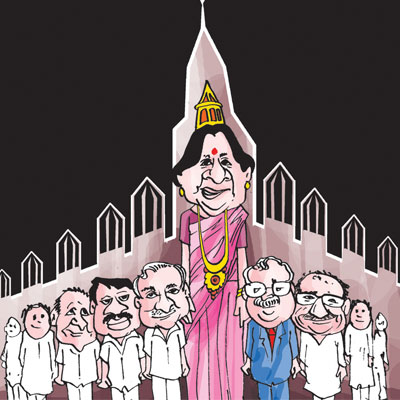 Anandi Patel, an enigma for anyone not personally known to her, became the first 'ben' inductee in an all-boys' club after she was dubbed the new chief minister on Wednesday. This is certainly not a new thing for the 72-year-old who has continually defied gender stereotypes since her early years.
Having been a teacher and administrator over the years has also made her efficient and result-oriented about all her work sans overt display of emotions. Close ones, however, confide that underneath the tough exterior is a family-loving and caring woman.
Born on November 21, 1941 in a farmer family of Kharod village in Vijapur, Mehsana, Patel received constant support from her parents in her quest for education. In the absence of a girls' school nearby that taught beyond class-IV, she went to an all-boys' school, where she was the only girl student among 700 boys! Even the college presented a similar scene where she went to pursue her first year in Bachelors of Science in 1960, from where she moved to Visnagar to finish the degree.
But Anandiben never lost sight of an award, including bagging the 'Veerbala' award for her performance in athletics. But, academics remained her first love and she, along with her husband Mafat Patel, moved to Ahmedabad where she began her Masters in Science degree course in 1965. After completion, she went on to do Masters in Education, realising her dream to be a teacher. During this time she was also raising her two children, Sanjay and Anar, besides those of her extended family whom she stayed with here.
In 1968, she joined as a teacher in Mohiniba Kanya Vidhyalaya where she taught for around three decades including the tenure as principal for 11 years. Her selflessness and care for students was seen when she jumped into the Navagam reservoir, Narmada to rescue two girls from drowning, for which the state government feted her with a 'Gallantry Award'.
Minakshi Desai (67) a retired physical training teacher who worked with Patel for nearly 30 years said Anandiben always taught girls to do their own work. "From teaching girls to be self dependant to calling girls from low-income households to the teachers' room in recess and teaching them so that they could do without costly tuitions, she was a true teacher," she said.
She earned the 'Best Teacher' awards, both from the governor and president in 1988 and 1990, respectively. Meanwhile, her husband wanted her to join the BJP after she was relentlessly pursued by the party from the time she won the Gallantry Award. In 1987, she finally joined the BJP and was made state president of the party's women's cell, a few months after a then-young Narendra Modi was made general secretary of the party's state unit. In 1994, she was nominated to the Rajya Sabha, followed with four terms as MLA from Mandal, Patan, most recently Ghatlodia in 2012. The rest as they say is history.
Patel is a strict disciplinarian who begins her day with Yoga at 5.30 am. Punctuality is her middle name while she also regularly attends social and religious events organised by her community, the Leuva Patels, despite a busy schedule.
A globetrotter, Anandiben and her husband now live separately, though she still remains close to her children Anar and stays with her son Sanjay in Shilaj.
Landmark years
November 21, 1941: Born to a farmer father Jethabhai in Kharod, Mehsana
1940- 1959: Schooled in Kharod and Visnagar, where, from classes V to VIII, she was the only girl in a all-boys school
1960: Only girl to enrol during her first year in Bachelors of Science at Bhilvai College. Later, she finished her studies and graduated from a college in Visnagar
1963: Managed Visnagar Mahila Vikasgruh, teaching vocational skills to widows
1965: Moved to Ahmedabad with her husband Mafatbhai and two children, Sanjay and Anar.
She pursued both masters in Science and Education at the same time
1968: Joined Mohiniba Kanya Vidyalaya, teaching science and mathematics to primary students
1987: Rescued two students from drowning in Navagam reservoir, Narmada; this won her the Gallantry Award from the state
1987: Joined BJP as state president of women's cell and held the position for 7 years
1988: Received governor's award for 'Best Teacher' and became school's principal
1990: Received President's award for 'Best Teacher'
1992: Only woman leader from Gujarat to participate in 'Ekta Yatra'; unfurled Tricolour at Lal Chowk, in Srinagar amid threats from extremists and terrorists
1994: Nominated to Rajya Sabha
1998: Retired as school's principal; Elected MLA from Mandal, cabinet minister for education, women, and child welfare
2002: Elected MLA from Patan, cabinet minister of education, higher and technical education, women and child welfare; sports, youth, and cultural activities
2007: Re-elected MLA from Patan, cabinet minister of revenue, disaster management, road and buildings, capital projects, women and child welfare
2012: Elected MLA from Ghatlodia, cabinet minister for revenue, road and buildings, urban housing and urban development, disaster management, capital projects
May 21, 2014: Elected chief minister of Gujarat, replacing PM-elect Narendra Modi