In this Diwali season, DNA brings to you what political leaders are thinking — rather dreaming —about ahead of the election battle.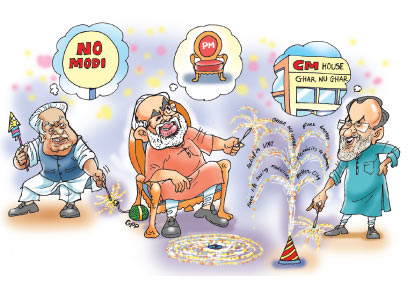 Do or die for Keshubhai
Former CM and founder president of Gujarat Parivartan Party (GPP) Keshubhai Patel is celebrating Diwali and New Year with his family and close associates at his Gandhinagar residence. The former CM is presently engaged in the tiresome process of finalising candidates for elections. He will use the break to reenergise himself for the tough political battle in December, which is as important for him as it is for his bete noire Modi. He is expected to resume meetings with party workers and citizens from Friday.
Modi to strategise
CM Narendra Modi is using the Diwali break to make strategy for upcoming polls, which is seen as a crucial test for him to stake claim as BJP's prime ministerial candidate in 2014 Lok Sabha elections. Modi will keep his close confidants and BJP leaders engaged in the exercise. He has also taken some time out for celebrations. He will exchange festival greetings with people from 8am to 8.45am in Gandhinagar on Wednesday. He will then meet people at circuit house annexe at Shahibaug from 10am to 11am.
Modhwadia fireworks
Gujarat Congress president Arjun Modhwadia is celebrate Diwali and New Year with his family and extended family at Porbandar. He will also meet people and party workers and exchange festival greetings over next two days. Modhwadia said he doesn't burst crackers during Diwali, but promised a lot of fireworks in the upcoming assembly elections. He will be back in Ahmedabad and restart meetings with other party leaders to strategise and plan for the elections the day after New Year, i.e. on Thursday.