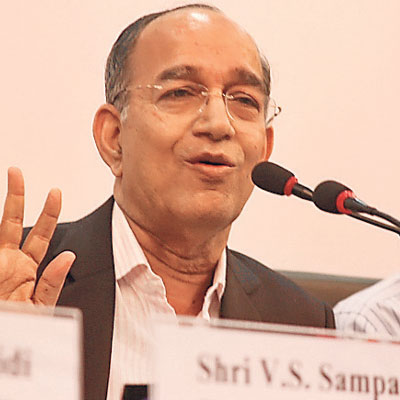 The Chief Election Commissioner of India VS Sampath was in the city on Monday to review preparations in Gujarat before it goes to poll on April 30. The Election Commission (EC), he said, has seized Rs2.20 crore in cash in the state while Rs12.75 crore worth of liquor has also been caught.
When asked about how Gujarat ranked vis-a-vis other states as far as seizure of liquor is concerned, Sampath said: "It is relatively high up the rank." Also, when asked if foreign nationals could contest elections, Sampath said no. When pointed out that a Canadian citizen was contesting from not one but two seats, Sampath said: "We will then look into the matter."
The EC also met representatives of all political parties, district collectors, superintendent of police and state office bearers. He said that of the 45,380 polling stations, one-fourth (10,775) were in a critical shape.
"We are also looking at demonstrating 470 polling stations as ideal polling stations and these will be spread over various districts and talukas," said Sampath who added that 43 assembly constituencies were seen as 'expenditure sensitive'.
A voter verifiable paper audit trail refers to a facility wherein a voter will be able to see a printout of the symbol of the candidate to whom he has voted will be launched in Gandhinagar, this election. On paid news, the Commission said it has issued 92 notices, of which 15 have been confirmed as paid news.
The Commission has also clarified that advertisements on social media will have to be approved and expense for the same will be considered as the candidate's expenditure.
Sampath further stated that the EC had also carried out vulnerability mapping exercise based on 13 parameters to identify people and places that were vulnerable to threats from candidates and party workers.
"The EC officials will be visiting these vulnerable places and such people will be provided security. Action will be taken against those found threatening voters. On the polling day efforts will be made to ensure that the voters can vote in a non-threatening atmosphere," said Sampath. On Narendra Modi's marital status controversy and non-functionality of EVMs, the chief said matters are being investigated.
"Of the 3.78 lakh EVMs that have been used so far 0.003% were found to have some trouble with them," said Sampath.