Some schools in talukas around Ahmedabad mention these details on their display board; activists claim this only aggravates discrimination lower caste teachers face.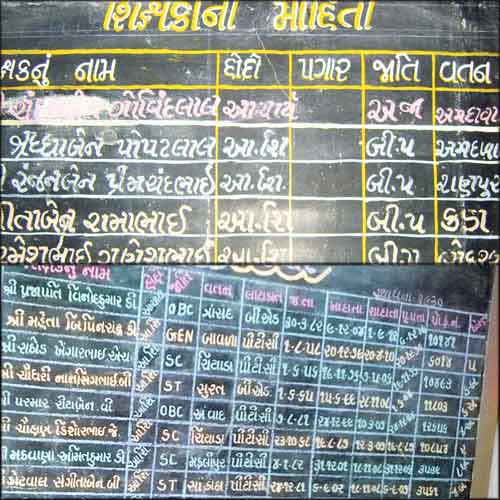 Aristotle revered teachers with his words: "Those who educate children well are more to be honoured than they who produce them; for these only gave them life, those, the art of living well."
Alas, 65 years after being declared a Republic, teachers in India, particularly in Gujarat, do not seem to be revered for their learning, but recognised only by their pedigree.
Case in sight: A few primary schools in Ahmedabad district, where caste seems to be an important part of the teachers' identity. For, the schools here have taken to a blatant public display of the caste details of teachers employed by these schools.
Take the case of the Kumar Shaala Primary School No. 1 in Sarkhej, where the display board not only clearly mentions the names of the teachers, their designations, hometown but also whether they have been selected under the SC, ST, OBC or general category. Activists, who have worked for the rights of Dalits and Other Backward Classes (OBC), believe that while pro-active information disclosure is welcome, the blatant display of the teachers' caste further leads to discrimination, particularly in rural societies where caste loyalties still run deep.
At Chiada village of Bavla taluka, the Adarsh Primary School, too, displays the castes of its teachers. When asked why, an official said it was mandatory to disclose information about teachers. When asked if it was also mandatory to disclose their castes, the official said: "I don't know. We have to give out all information, and so we do it." Another official at the Sarkhej school said the information has been there for long and no one has raised any objections. Both the officials refused to come on record about the matter, though.
Ramila Parmar of Navsarjan, who has worked with people from marginalised communities in some of these villages, said the blatant display of caste only exacerbates discrimination against teachers from lower castes.
"In rural areas, caste loyalties run strong. The teachers belong to different villages and many a time, you can't identify their castes from their names. But such display of their caste credentials puts them at a risk of discrimination," Parmar said, adding that this was the case at many primary schools in Ahmedabad taluka. "In some, the section displaying caste was removed after we questioned them."
Echoing Parmar's words, a teacher at a primary school said: "I see a sea change in the attitude and behaviour of parents the moment they know that I belong to the OBC category. We, too, had such a display in our school. But it was later removed after protest," said the teacher, who did not wish to be identified for fear of reprisal from the authorities. And, despite repeated attempts, Sangeeta Singh, principal secretary, state education department, could not be reached for her comment. A message to her asking if the primary department had issued any notification stating that teachers' details, including caste, be put up went unanswered. Even state education minister Bhupendrasinh Chudasama did not respond to phone calls.