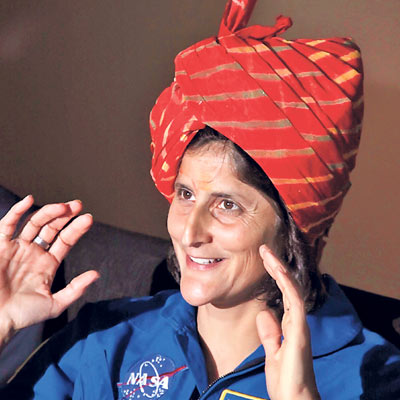 Indian-American astronaut Sunita Williams, who holds the record for the longest space flight by a woman, has become a role model for wannabe space travellers not only in Gujarat (her father's native place) but all across the country. Unfortunately, lack of clarity regarding programmes in India for those who wish to become an astronaut is often discouraging for aspirants.
Talking to DNA on Friday at a function at Unitedworld School of Business in Uvarsad village near Ahmedabad, she said that the government should think of helping children interested in space travel.
Sunita said that the Indian government should pay attention to children who want to become astronauts. "The government should have a programme similar to the one the US has," she said adding that the US programme can serve as a model.
"They should enlighten kids about how to become astronauts and join such international programmes. I can't do it myself. It is a bigger task but kids here want to do it; they are interested in becoming astronauts," said Sunita, who is in Gujarat on a three-day trip.
When asked about her best experience during her current visit to the state, she was quick to mention her interaction with curious kids and students in Ahmedabad and Jhulasan.
Another journalist who happened to be there asked her whether she plans to settle in India sometime or start a school here as she is interested in becoming a science teacher. In answer, she asked, "Was that serious?"
"I want to become a science teacher; I have to grow up. Doing something major like that would be scary, serious. Playing around in space, my husband often jokes that he has to do all the laundry work. We have to settle that and I have to hang out more with my husband before I do something exciting like that [teaching science]," she said.
Clad in NASA uniform, Williams interacted with students from different fields of science. She told her audience that her parents and siblings had always been a source of inspiration for her. Her father's passion for his work and focus on goal and her mother's determination and outgoing nature had inspired her.
"My father moved to the US but he was here during the Independence movement. So we grew up listening to Mahatma Gandhi's story. He has influenced me. My mother is a Christian and so Mother Teresa's message of giving back to society has also inspired me," she said.