Ground reports suggest that BJP may increase its tally in the region from five to six, whereas Congress might lose one seat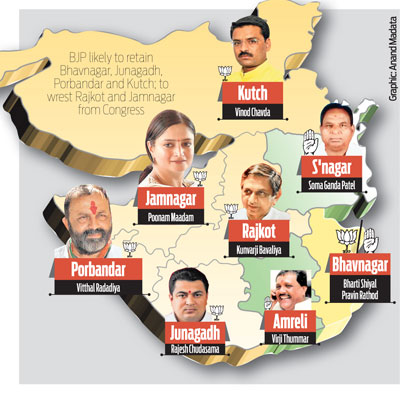 Less than a week before the Lok Sabha election, the BJP seems to have an upper hand in Saurashtra and Kutch. The party is unlikely to sweep the entire region, as BJP leaders are claiming, but has a strong chance of increasing its tally in the region from the current five to six, with the Congress's tally declining from three to two.
At present, the BJP represents Bhavnagar, Amreli, Junagadh, Porbandar and Kutch seats in the Lok Sabha, while Congress represents Rajkot, Surendranagar and Jamnagar.
The BJP — ground reports seem to suggest — is likely to retain Bhavnagar, Junagadh, Porbandar and Kutch, while wresting away Rajkot and Jamnagar seats from the Congress. However, the party is likely to lose Amreli seat to Congress, which could also retain Surendranagar.
Losing Rajkot and Jamnagar seats, represented by Kunvarji Bavaliya and Vikram Maadam respectively, two of Congress's strongest leaders in Saurashtra, would no doubt be a big blow to the party.
Kunvarji Bavaliya is facing a tough challenge from MLA and former minister Mohan Kundaria. Bavaliya is banking on his clean image to get re-elected, but the 'Modi-for-PM' chorus and BJP's strong worker base, are likely to deny him a second straight victory in Rajkot.
Likewise, two-time MP Vikram Maadam is being challenged by his niece and BJP MLA Poonam Maadam from Jamnagar. Vikram admits that Modi is a big issue in the election. It is also rumoured that one of the country's largest corporate house, is backing Poonam in the contest.
The BJP dropped five-time MP Rajendrasinh Rana, but still seems to have its nose ahead in Bhavnagar seat, which will see a fight between two sitting MLAs. The BJP has fielded Bharti Shiyal as its candidate, while Congress has nominated Pravin Rathod.
Reports suggest that Shiyal was lagging in the fight till a few days ago, but the balance has tilted in her favour after minister Parsottam Solanki, who has good hold over the influential Koli community, started campaigning in her favour. However, the performance of former BJP MLA Kanu Kalsaria, who is contesting as AAP candidate, could change the result.
The Congress, though in poor shape, can draw solace from the fact that it is likely to retain Surendranagar seat, represented by Soma Ganda Patel, and also wrest Amreli seat from BJP. A four-time MP Soma Ganda Patel, has a strong hold over the Koli Patel community, and is likely to see off the challenge posed by former Congress MLA and now BJP nominee Devji Fatepara.
A victory in Amreli, the Modi wave notwithstanding, will come as a big boost to the Congress. The party has fielded former MP Virji Thummar against sitting MP Naran Kachhadia from the seat.
The local leaders of Congress seemed to have buried their differences, while the BJP looks like a divided house in Amreli, which is likely to cost it the seat.
The Junagadh seat, presently held by BJP, will also see a contest between two MLAs. The BJP has fielded Rajesh Chudasama, who will take on Congress's Punja Vansh. Chudasama and Vansh are evenly matched in terms of caste equations and other factors, but the 'Modi wave' is likely to see the BJP nominee through in the electoral test.
Sitting MP and BJP nominee from Porbandar, Vitthal Radadiya is also expected to retain his seat. He is being challenged by NCP nominee and Godmother late Santokben Jadeja's son Kandhal Jadeja. Kandhal has an edge over Radadiya in his criminal record, but the latter can be expected to emerge the winner in the political battle.
Kutch Lok Sabha seat — represented by BJP presently — is likely to have saffron hue in the coming election too. The BJP dropped sitting MP Poonam Jat from the reserved seat, and fielded Vinod Chavda instead, who is taking on Congress nominee Dinesh Parmar.