At 3 mm, Tuesday's rain broke the last record of 1.5 mm recorded for January, Such heavy rainfall happened only once in the last decade in 2010.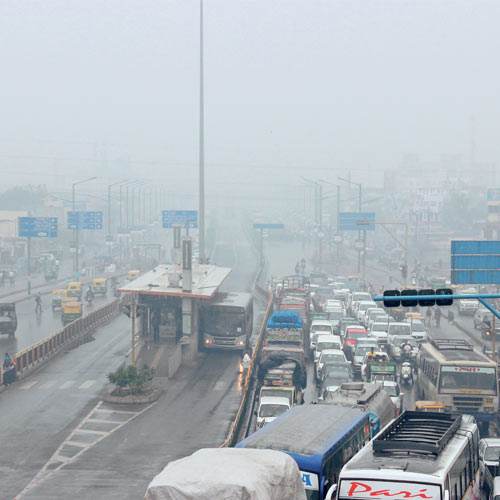 A mist-laden morning left Amdavadis foggy as unseasonal rain in the city, late on Monday night and Tuesday, too, not only created a record of sorts at 3mm, but also took the city back to its wintry mood. It is for the second time in a decade that the city recorded rain in the month of January. The last time it rained was in the year 2010, when it received 1.5 mm rainfall on January 4.
Tuesday's rain was the highest ever recorded for January in the last decade. The rain that had begun in the wee hours of Tuesday at some places continued throughout the earlier part of the day intermittently. Though the showers were sparse, nobody seems to be complaining, not even the farmers.
"It was a nice weather and excellent for a walk. Hence, I went about my morning walk only to get caught in the rain. Thankfully the showers lasted for just a few minutes," said Bharat Parmar, a resident of Satellite. Meanwhile, Amdavadis can look forward to more rain as the Met department has predicted light showers for the city on Wednesday, too.
IMD Gujarat director Jayanta Sarkar said there is an upper air cyclonic circulation over south Rajasthan and adjoining Gujarat which will ensure that the city gets another cloudy day. "There is also a possibility of rain," said Sarkar. Interestingly, despite the rain, the minimum temperature hovered around 14.2°Celsius, three degrees above normal.
On Wednesday the minimum temperature is expected to be around 11°C.
Meanwhile, at the airport no significant delays were reported although two Delhi-bound flights were redirected to Ahmedabad.
The first flight of Oman Airways on its way to Delhi from Muscat was redirected to the city at around 11.30 in the morning and later left for the capital at 2.30pm. Another flight of Kenyan Airlines from Nairobi to Delhi too arrived in the city at 12 and left by 3 in the afternoon.
Across the state six other districts recorded rain with the highest being recorded at Bhavnagar.
The district recorded 6 mm of rainfall. The Met department has predicted light to moderate rain in isolated places in almost all districts of the state for Wednesday.