Gifts, concession in office hours, campaigns — companies are leaving no stone unturned to promote voting awareness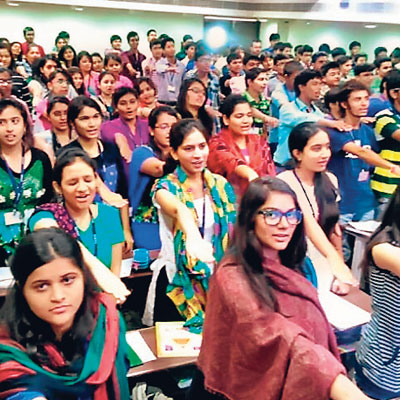 Cheap food, discounts and free rides are some of the ways being adopted to lure voters out of home and cast their vote. On similar lines, corporate companies in Gujarat, too, are encouraging their employees and immediate family members to get their fingers inked on April 30 — polling day — and in return, get concession over office timings and/or gifts.
Arvind, denim major of Ahmedabad, has set a target of achieving 90% voting of its total 13,000 employees. "We have created awareness and sensitised our employees to exercise their franchise. We have set a goal of achieving 90 to 100% voting. And, we plan to give every person (voter) a gift as a token of appreciation," said spokesperson of Arvind Ltd.
The company has already started activities in its offices and manufacturing plants to promote voting. "We are distributing pamphlets — in local language — appealing to employees to vote with their family. We have also printed banners and standees asking employees to exercise their voting rights. And in our departmental meetings, the vertical heads will encourage colleagues to cast their vote," he said.
Adani Group, a Gujarat conglomerate, is giving concession over office timings. "During the 2012 assembly election, we gave a concession of two to three hours to every employee working in Gujarat. This time around, we will do the same," said an Adani Group official.
The group has around 10,000 employees in India, including 6,000 in Gujarat. "Depending on the polling dates, we have asked employees to go out and vote. In case of Gujarat, we will encourage employees to vote on April 30," he added.
Another addition to the list is a Vadodara-based real estate company — Mayfair Spaces Ltd, a subsidiary of Diamond Power Infrastructure Ltd. It has started a campaign '5 ka pledge' to promote a robust turnout in Vadodara for polling. According to the campaign, a voter needs to take five other voters along with him.
The pledge says: "Not only will I vote, but I will inspire five more votes. Vote in the coming elections. It's the most patriotic thing you can do. Your single vote counts and you can multiply its value by getting five others in your circle of influence to join you in casting their votes."
One of the leading pharmaceutical companies of Gujarat, Zydus Cadila, too, has plans to encourage employees to vote. "We believe that it is very important to cast votes and support this in every way. We are also planning an internal communication on the importance of casting one's vote," said the spokesperson of Zydus Cadila Group.
One of the leading telecom players is too planning to encourage voting. "We have started a campaign not only for our employees, but also for the subscribers. Through this were offer interesting deals to the subscribers," said an official of the telecom operator. The chairman and managing director of Cadila Pharmaceuticals Ltd Dr Rajiv Modi believes that voting is one's responsibility towards country. "We are encouraging our employees to cast their votes before coming to work on the election day. We enable and motivate every one in the organisation to vote responsibly," he said.
Industry bodies are also doing their bit. "As part of our activities, we have started a campaign 'Vote for a Better India' at various corporate and educational institutes in Ahmedabad. We have already covered companies like Motif, Azure, Navkar Institute, Knowledge Academy, Xcellon among others," said Jainee P Gordhandas, co-chairperson of the CII-Young Indians Ahmedabad Chapter.