Already railings were laid over a stretch of 200-250 m in Gulbai Tekra; AMC claims separate lane dropped to save 80-odd trees.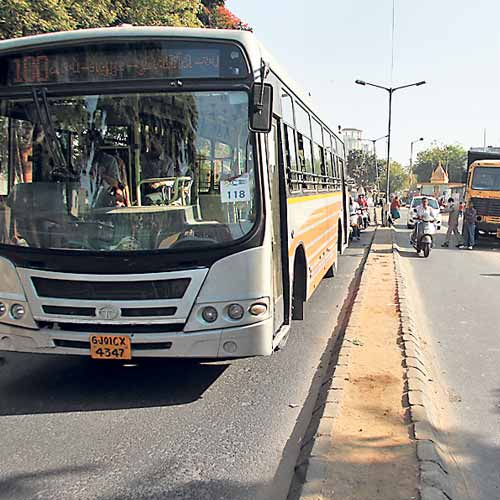 This saying by Anonymous — "I simply cannot build my hopes on a foundation consisting of confusion" — seems most apt for Ahmedabad Municipal Corporation (AMC). The civic body was caught in two minds over whether it should build a separate Bus Rapid Transit System (BRTS) corridor or opt for mixed traffic on the Gulbai Tekra stretch.
In order to build a separate corridor, they had started erecting railings. After doing so for around 200 metres, they suddenly removed them two days back for testing. Now, after a detailed discussion and survey, the AMC has decided to allow BRTS buses run in mixed traffic.
"We were testing whether the BRTS corridor was feasible on such roads, for which nearly 200-250 metres of railings were laid and later removed," said an AMC road project official.
According to AMC records, the road, connecting passport office with Panchvati and measuring 24 metre in width, has two major encroachments and two huge temples acting as obstructions. This led to the confusion whether to run BRTS buses in mixed traffic or opt for a separate corridor.
Incidentally, construction on this route was part of BRTS phase 2, which has been pending for nearly one-and-a-half years. While the university stretch on the nearby road has been made operational, AMC has still been facing trouble in removing encroachments, laying railings and others on Gulbai Tekra stretch.
Meanwhile, after months of waiting, Ahmedabad Janmarg Limited (AJL), a special purpose vehicle of the AMC, which runs BRTS, finally commenced the university stretch on December 1 and started using the internal road of Gulbai Tekra for a circular route.
"This route had been pending since long. Though AMC had also removed encroachments to widen the road, nothing has been done yet. However, at present, the stretch has been made operational for mixed traffic," said an AJL official.
Defending the sudden change in plan, deputy municipal commissioner M Thennarasan said it was done to save trees. "Around 80 trees had to be cut for a separate BRTS corridor on this road.
Also, its width is just 24 metre, which is too narrow to have a separate corridor. That's why, we have decided to have a mixed traffic route there," he said.