BJP's PM candidate expected to spend only a day or two for campaigning in the state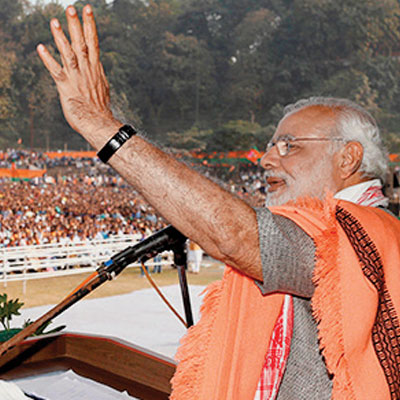 With Gujarat already in Bharatiya Janata Party's (BJP)'s pocket, or so party leaders would want us to believe, chief minister and BJP's prime ministerial candidate Narendra Modi, is expected to devote very little time for campaigning in the state.
The chief minister, who has been crisscrossing the country addressing an average of four election rallies per day, will campaign in Gujarat just for a day or two, said highly placed sources in the BJP, which is eyeing a major haul in the state in a bid to win back power at the Centre under Modi's leadership.
"Narendrabhai will focus on campaigning in other parts of the country, where his presence is needed more to galvanise voters and energise party workers. In Gujarat, workers and voters are equally enthused to see him become the prime minister," said a senior party leader, requesting anonymity.
Modi is likely to make a personal appearance at only four to five public meetings in the state, which will be spread over a day or two, apart from addressing rallies using 3D technology. While the final plans are still being worked out, officials said that Modi is likely to address one public meeting in central Gujarat, a couple in Saurashtra, one in south Gujarat and one in north Gujarat.
"He has already addressed rallies at around a dozen places in the state through 3D technology. He will continue to do so in the run up to the elections," said a party official in the know of the development. Another senior BJP leader said that the responsibility for campaigning in Gujarat and winning maximum number of seats has been given to the party's state leadership, including ministers.
"Senior ministers have been made guardians of different Lok Sabha seats. They are also campaigning extensively across the state to maximise the party's returns. As April 30 (the day of elections in Gujarat) nears, we will also see central party leaders such as Rajnath Singh, Sushma Swaraj, Arun Jaitley, Nitin Gadkari, Venkaiah Naidu, Smriti Irani, among others, as well as chief ministers Vasundhara Raje Scindia, Shivraj Singh Chouhan and Raman Singh campaigning in the state," said a party leader.
The BJP has been publicly talking of making a clean sweep in Gujarat by winning all 26 Lok Sabha seats in the state. However, party leaders say that the realistic target is to win 20 seats.
"We will be disappointed if we get less than 20. Anything above that will be a bonus," said a leader.