Four others caught too, hunt on for remaining three.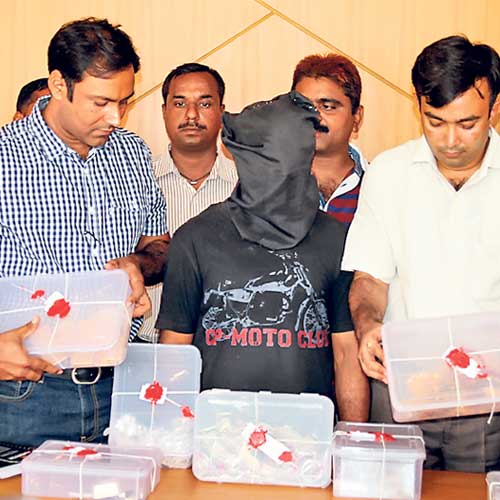 Police have nabbed five of the eight robbers involved in the sensational cash and gold loot worth more than Rs6.5 crore on Monday night. Ahmedabad local crime branch (LCB) had arrested two robbers on Saturday, while the Detection of Crime Branch (DCB) nabbed, Fatehsinh Zala, a resident of Sunsar village in Patan, and a key conspirator on Sunday.
Cash and other valuables worth Rs2 crore were also recovered from Zala's possession. The gang had robbed an Eicher truck carrying gold, silver and cash of an Angadia firm on the Bavla-Bagodara highway.
Banaskantha LCB had also caught two others on Sunday, who were identified as Suresh Thakor, a resident of Vaghana village in Patan, and Manaji Thakor, a resident of Sunsar village in Patan. Cash and gold worth Rs2.69 crore were recovered from the duo.
During investigation, DCB police inspector KP Patel unearthed the fact that Zala was supposed to come to Ahmedabad on Sunday to sell off the booty at Manek Chowk. Acting on information, DCB officials kept a watch near Astodia and caught him with the cash and other valuables, worth Rs2 crore, when he was walking towards Manek Chowk after arriving at the Geeta Mandir bus-stop.
DCB officials said the cash and valuables seized from Zala was his share of the loot. Cops found 7.25 kg of gold and 500 gram of silver, along with Rs5 lakh cash from the bag he was carrying.
Investigation revealed that Zala runs a small snacks parlour on the Mehsana-Radhanpur road for the last 14 years, which doubles up as a den for criminals.
He was also caught in 2003 by the LCB for looting an angadia firm employee with the help of such customers.
He spent six months in jail and had come out on bail to restart his shop, and started his nefarious business again with the help of these seven men.
Zala confessed that one Amrut Patel, a resident of Mehsana came to his shop on July one and discussed the plan to rob Ishwar-Bechar Angadia firm's truck.
The gang then attacked the driver and cleaner of the truck when it was heading towards Rajkot. Cops are searching for the three accomplices.