Though youngsters did not show enough interest in these books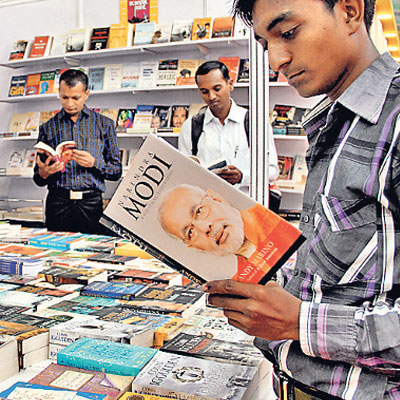 The election fever may have cooled down in the city but the Modi fever still continues. And this was witnessed at the recently concluded book fair when books on BJP's prime ministerial candidate Narendra Modi attracted the attention of the visitors.
The bestsellers included Modi, Muslims and Media: Voices from Narendra Modi's Gujarat, Narendra Modi: A Political Biography and Sakshibhaav.
"This year the fair recorded the lowest footfall compared to last two years. However, books on chief minister (CM) Narendra Modi were amongst the most popular ones," said Asoke Shukla of a publishing house, Rajpal and Sons.
As the nation went to polls, the book fair was replete with books about the CM. "To reach a greater chunk of the population, several regional and national publishers published new books in time for them to reach the market during elections," said Gopal Prajapati, co-worker at Navbharat Sahitya Mandir.
"There are two kinds of people who bought these books. First comprises those into politics or interested in it, while the second comprises those who are curious, following the hype being created during the elections; they want to know about the CM, his life and thoughts," said a coordinator at Penguin's book stall.
Koushik Patel, a visitor at the fair said: "Books present a transparent and vivid description of the principles of our CM. As a citizen of Gujarat, whose CM may become the next prime minister, I would like to know more about him."
However, the readership of these books is not limited to the city or state.
NRIs also showed interest in English translations of these books. For instance, Kaminev Patel, a non-resident Gujarati from UK, who bought two books on the CM, "to know about his ideologies and life".
"Sakshibhaav, a collection of poems penned by Modiji, was in great demand. It was launched in the city a few months back and so it instantly grabbed the readers' attention," reasoned Asis Patel of Indira Book Stall.
The general sentiment echoed by most sellers was that youngsters were not the ones showing enough interest in these books. "Readers in their late thirties to sixty plus were the main buyers," Shukla pointed out.
Many bookstores across the city witnessed a similar rise in the sale of books on the CM since the start of the election campaign. "We have eight to 10 books on Modi. They are amongst the bestsellers, especially his biography," said Yograj Jadeja, a customer care executive at a Crossword outlet.